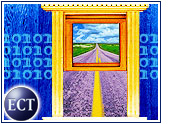 Driven to reap ROI from real-time data access and advanced collaboration among employees and partners, more and more IT executives are hunting for the right enterprise portal.
This is not a simple search, however. The array of choices is dizzying, with portal solutions up for grabs from such firms as pure-play vendors BroadVision and Plumtree, platform stalwarts IBM and Microsoft, and ERP giants SAP, PeopleSoft and Oracle.
To top it off, the crowded market is undergoing rapid consolidation. In other words, the vendor you pick today might not be around — at least in its original form — tomorrow. Just last year, for example, portal pioneer Epicentric was scooped up by content management maven Vignette.
"All of these vendors are fighting mightily in this market right now. There's no runaway leader," Aberdeen Group research director Dana Gardner told the E-Commerce Times. "It's rapidly changing and consolidating. And as a customer, you can get some attractive deals because [the portal companies] are all fighting over market share."
Buyer's Market
The portal market is a buyer's paradise in large part because platform providers, such as IBM and Microsoft, and large ERP companies, such as SAP and PeopleSoft, can afford to offer bargain-basement prices or even give away their portal offerings. In their view, the portal is almost a features extension of much more lucrative portfolios that can include an application server and tools, applications, databases or integration middleware.
"Companies want a single platform to aggregate all of their existing silos," Akiba Saeedi, senior marketing manager for portals and eWorkspace solutions at IBM, told the E-Commerce Times. "For this you need to go horizontally across the enterprise, and that's IBM's competency. We have the benefit of a common platform with the portal to tap into our Lotus and Tivoli products, our DB2 [database] and [our WebSphere] app server."
Everything But the Kitchen Sink?
IBM, the current leader with approximately 15 to 20 percent market share, sells a variety of portal offerings within its WebSphere product line. Three are aimed at the enterprise: the entry-level WebSphere Portal Enabler, priced at US$72,000 per CPU; WebSphere Portal Extend, priced at $116,000 per CPU; and WebSphere Portal Experience, with advanced security functionality, priced at $696,000 for the required four CPUs. All three portals come built on top of a WebSphere application server. Users also get the DB2 database and, in some cases, the Lotus and Tivoli technologies as part of the package.
IBM also sports two portal products targeted toward small to mid-size businesses, as well as an integrated version of its portal and commerce offerings.
But although tech titans loom large in the portal sector, pure-play vendors have an advantage in terms of flexibility. They claim to offer more out-of-the-box features, such as content management, e-commerce functionality and personalization, without requiring add-ons, and they tout the fact that purchasers are not locked in to any single application server or infrastructure environment.
"We provide more preintegrated functionality and a lower cost of ownership over time because of what we come with built in," Linda Sonne, director of marketing for One-to-One Portal at BroadVision, told the E-Commerce Times. BroadVision, an early entrant in the portal space, counts among its largest customers the U.S. Air Force and financial services firm Fleet Boston. Base pricing for its portal offering starts at $60,000 per CPU.
Sizing Up Your Needs
According to Aberdeen's Gardner, the wisest strategy for selecting a portal involves first taking stock of an enterprise's existing technology. "Your best call on what portal to go with depends less on where you want to go technologically and more on where you have been," he said.
For example, IT managers should examine tangible investments in databases, application development frameworks, and content and document management systems. They also would do well to engage in organizational self-evaluation; for example, they must decide how much custom development they are willing to do (a major requirement if choosing a platform-based portal approach), how much middleware their IT departments can support, and whether they would prefer tapping the services of a systems integrator or going the hosting route.
In that context, SAP and PeopleSoft, which both have huge installed bases, are in a strong position relative to other portal vendors, Gardner said.
Where ERP Vendors Shine
Indeed, SAP's portal play, dubbed mySAP Enterprise Portal, emphasizes seamless integration with existing back-end systems powered by SAP applications. And PeopleSoft's Enterprise Portal product works in a similarly smooth fashion with other PeopleSoft products. Both portals also leverage adapters and Web services to tie into other applications.
PeopleSoft, for example, sports several noteworthy features. One is the Intelligent Context Manager, a system of intelligent agents that recognize who a user is by the actions he or she takes and the business processes in which he or she participates. As a result, the company's portal agent can retrieve and aggregate pertinent data from across the enterprise to assist each specific user, according to Paola Lubet, vice president of product marketing in PeopleSoft's technology division. PeopleSoft's portal pricing is based on such factors as customer size and annual revenue, Lubet told the E-Commerce Times.
SAP does not disclose pricing. However, Greg Crider, director of market strategy for mySAP Enterprise Portal, touted the product's capability to access and merge structured and unstructured data from both inside and outside an enterprise through "portlets," which essentially provide windows to applications and Web sites located outside a company's firewall.
It is just these kinds of business-to-business enablers that many IT executives are seeking when they invest in portals. The best choice is likely to vary depending on each enterprise's specific needs and existing technology, but the end goal is universal: to reap ROI by linking together data from disparate sources and helping employees work better and smarter.