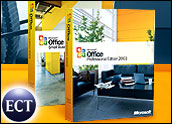 Microsoft wants everyone to migrate to Office 2003. But at between US$239 and $329 per PC for the upgrade, users may wonder whether the step up is worth the cash. In this article, the E-Commerce Times delves into the new Office suite to identify the features users likely will crave — and those that, while promising, are not yet poised to shake the foundations of enterprise computing.
In a nutshell, the decision about whether or not to upgrade may come down to a single factor: collaboration. The newest edition of Office focuses largely on helping employees work with each other more effectively, whether they are sharing documents or planning meetings and events.
"With the new version, there's now the ability to use collaborative tools and portal tools from within Office," Ted Dinsmore, president of the U.S. division of business consultancy Conchango, told the E-Commerce Times. "People live, breathe and work every day in applications like Word and Outlook. Now they can save documents directly out of these applications and use them for collaboration. It makes sharing across the organization easier and more comfortable for everyone."
On the Same Page
For example, with a feature called Document Workspaces, Office 2003 enables users to coauthor, modify and review files via a centralized, Web-based repository of files, tasks and lists of links and team members. Users also can share attachments and contacts, giving their cohorts access to the latest versions of documents at any given time.
Additionally, in Microsoft Word, users can lock down portions of Word documents to prevent editing. They also can assign permissions, enabling only certain users to make changes, and the "compare and merge" feature is greatly improved, making it easier to see all reviewers' comments.
However, not everyone is convinced that these new features are groundbreaking — especially makers of software that performs similar functions.
"Collaboration and what Microsoft is trying to do with it is certainly not anything new," Scott Testa, chief operating officer of intranet software provider Mindbridge Software, told the E-Commerce Times. "This collaboration has been going on a long time without Office 2003. And there are other alternatives that in some ways are superior."
Big Bucks To Upgrade
Testa pointed out two factors that may discourage some Office users from upgrading to the 2003 version. First, the Office 2003 collaboration strategy is not based on open standards.
"So often with Microsoft products, you have to be running the Microsoft operating system and their database," he said. "So to really use a lot of the functions of Office 2003, you have to upgrade all of your company's Office suites and perhaps some infrastructure as well."
Doing so could be prohibitively expensive for some companies, according to Testa. An upgrade to the Microsoft Office 2003 Standard Edition is $239. The Small Business Edition upgrade costs $279 per PC, while the Professional Edition upgrade costs $329.
"It's not just the cost to buy the software," Testa said. "It's the time [required] to implement and install the upgrade on every computer. Whereas other existing collaboration programs, which tend to be Web- or browser-based, can be upgraded directly on the Web server, with little or no action needed on the client side."
Microsoft Office 2003's collaboration features also are not available for documents created outside of the Office suite, he noted.
Spam Away
Still, Office 2003 includes some other features besides collaboration that may induce users to take the plunge. For example, Microsoft Outlook users likely will appreciate new spam filtering capabilities, Intellinet principal consultant Dave Fackler told the E-Commerce Times.
"This version is much more intelligent about filtering out spam," Fackler said. "We've had a person in our organization who just installed 2003 and has really seen a major difference, without making any changes on our mail servers."
The updated Outlook interface also is easier to use and adds the ability to view multiple calendars simultaneously, he said.
Excel Power
By contrast, in Microsoft Excel, most of the major improvements apply only to "power users," according to MrExcel.com president Bill Jelen. "For the average Joe using Excel, there's really not anything new to speak of," he told the E-Commerce Times.
However, Jelen noted, "[Microsoft has] totally rewritten 40 functions that are useful for scientists and engineers."
The new version of Excel also can use XML data.
"This eventually is going to be the coolest thing ever," Jelen said. "But right now, nobody has XML data. So the resources to use these features are slim."
On the positive side, the new Excel enables users to scroll through two spreadsheets, side-by-side, simultaneously. It also features a research pane that lets users search the Internet without leaving Excel.
Taking Note
One of the coolest Office 2003 offerings is not included as part of the suite and in fact can be purchased without upgrading to the latest version, Jelen noted. The program, Microsoft Office OneNote 2003, lets users organize their notes in a single location.
"I've fallen in love with OneNote," Jelen said. "It's really the jewel of Office 2003. You can keep an incredible amount of notes on multiple topics, all in one place. It's searchable. It has great to-do list capabilities. It's brilliant."
OneNote lists at $199 but currently can be had for $99 after a $100 rebate.
Overall, aside from OneNote, users should not expect a huge number of new features in Office 2003, Fackler agreed. Rather, improved performance is the watchword.
"We've grown to expect Microsoft to continue to throw features at us with each new version," Fackler said. "But they don't go feature-crazy this time. They've smartly said, 'How do we make the existing tools easier to use?' rather than, 'How many more tools can we add?'"