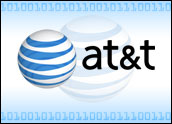 AT&T announced Monday that it will invest US$1 billion in its global network in 2009 to better serve businesses in the U.S. and overseas.
The communications giant has invested more than $3 billion in its network since 2006.
The latest commitment is meant to add more data capacity to parts of the world where the fast growth of data usage has constrained existing networks.
"With today's announcement, AT&T is making good on its commitment to provide companies with the network-driven capabilities and applications they need to successfully compete in a difficult economic environment," said Ron Spears, president and CEO of AT&T Business Solutions.
AT&T stock was down 2.37 percent to $23.01 in mid-day trading Monday.
Investing for the Future
AT&T's announcement comes just a few weeks after semiconductor giant Intel said it would invest $7 billion in its manufacturing facilities even as the year-long U.S. recession appears to be worsening.
"The reality is that, like Intel demonstrated earlier this month, the companies that can afford it are using this down market to position themselves for when the recovery occurs," said Rob Enderle, principal analyst at the Enderle Group.
In AT&T's case, voice traffic is falling off, so the nation's No. 2 telecommunications company needs to position itself for emerging opportunities in data services, he told the E-Commerce Times.
"They're investing in their own future," Enderle said. "They're showing they have a lot of confidence that they're going to be around. You like to see that kind of confidence in a market like this."
Increasing Capacity in Asia
The worldwide expansion of AT&T's network will focus particularly on Asian markets such as China, India, the Philippines, Thailand and Malaysia. In North America, Mexico and Puerto Rico will also see increased network capacity.
Data traffic is expected to spike in places like Asia and India, because many corporations today are outsourcing various resources to those markets, Enderle said.
"The growth rate in data usage in Asia and India has put a huge amount of stress on the networks there," he said.
In much the same vein, data traffic is expected to increase dramatically in Puerto Rico and Mexico due to the relatively low cost of labor in those countries, which, like India, makes them attractive places for outsourcing, Enderle said.