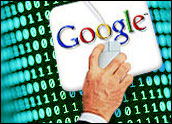 Search engine powerhouse Google is testing the use of a new expandable ad format with advertisers.
An expandable ad typically comes in the form of a small display ad that expands into a much larger ad — often covering up much of a Web page's content, much to the chagrin of users.
However, Google has included a safeguard against such annoyances. The new ads won't enlarge with a simple mouse-over, the company explained in a blog post on Friday. Instead, a user has to actually click on the ad to expand it. It takes a second click to actually get to the advertiser's landing page where more information regarding the product or offering being pitched is usually available.
The new ad format is ideal for ads that require a heavy visual display to entice consumers — think movie trailers and video game footage — Google said.
Google's stock was down 1.13 percent to US$301.80 in mid-day trading on Friday.
Protecting the User Experience
Google detailed several policies concerning expandable ads:
An expandable ad won't expand more than double its width or height;
Once expanded, an ad will appear as a layer over the page content, so that the content will not be modified or shifted in any way; and
The user may close the expanded panel at any time.
Expandable ads will be served as third-party ads and will be created by Google-certified rich media vendors. Earnings will be based on whether advertisers use the cost-per-click (CPC) or cost-per-impression (CPM) model. Advertisers generate earnings from CPC expandable ads when a user visits the advertiser's landing page — not when a user simply clicks to expand the ad.
Response to Yahoo?
Google's announcement came just a few weeks after search engine rival Yahoo announced it would be incorporating rich media ads such as video clips into its search results.
Is Google responding to Yahoo's move?
"Realize that Yahoo and Google remain in heavy competition," said Rob Enderle, principal analyst at the Enderle Group. "To some extent, they're responding to each other, but the two things are somewhat different. You're going to see these guys really start to compete on technology. They're both trying to find new ways to irritate us with new kinds of ads. Pity the user in the coming war."
Google Shows Online Smarts
One of the advantages of the new ad offerings is that users won't be leave their current Web page unless they want to — they have to click on an expandable ad twice to go to another page.
That makes the new ads less annoying, Enderle told the E-Commerce Times. "The problem is users will have to know ahead of time that it won't navigate you away from the page — Google will have to find a way to alert users to that."
The new ads also provide an advantage to advertisers.
"Advertisers take no risks because of the expandable ads," Enderle said. "If it doesn't work, there's no extra cost. What they are paying extra for is if the user clicks through to the landing page — where the user will be more likely to actually purchase the product being advertised. It's a great strategy and technology."
The expandable ad concept will appeal to products that can be sold visually, so it probably won't work that well for selling things like insurance or tax services, he said.
"If it's something visual like a new automobile, a new piece of technology, or even clothing or a movie trailer, that would be compelling," Enderle noted. "The key is it has to be visual."