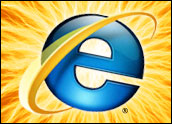 Google and Mozilla have formalized their support for the European Union's current antitrust proceedings against Microsoft by acquiring third-party status in the proceedings. They join several other firms that have also entered the fray.
The EU is investigating whether Microsoft is violating its antitrust regulations by bundling Internet Explorer with its Windows OS.
The European Commission — the EU's administrative arm — last month issued a statement of objections, finding that Microsoft's practice does amount to unfair competition. Microsoft is expected to respond within roughly a month, and now Google and Mozilla will be able to voice their perspectives as providers of alternative — and competing — browsers.
Statement of Objection
The EC began looking into the latest allegations against Microsoft in January 2008 after receiving a complaint from Norway-based browser maker Opera. The statement of objections released last month is a formal step in European Commission antitrust investigations, with the purpose of informing parties of objections raised against them.
If it chooses, Microsoft can present its side in an oral hearing after a period of eight weeks. If the EC finds against Microsoft, it has a number of remedies at its disposal, including a fine and the ability to force Microsoft to cease bundling the two products. If it does indeed confirm its preliminary finding, it is likely that the EC will impose such a remedy. That would be consistent with its action in March 2004, when it ordered Microsoft to offer a version of its Windows client without Windows Media Player, after finding that bundling the products was a violation of European antitrust rules.
Google Tries Again
This is not the first time Google has tried to get involved in antitrust actions against Microsoft: In 2006, its complaints triggered a Justice Department probe; however, the DoJ eventually found that Microsoft's bundling of its browser and operating system did not constitute a threat to competition.
Nonetheless, that has not changed Google's opinion that the browser market is still largely uncompetitive because Internet Explorer is tied to Microsoft's dominant computer operating system.
"Compare this to the mobile market, where Microsoft cannot tie Internet Explorer to a dominant operating system, and its browser therefore has a much lower usage," Sundar Pichai, vice president of product management, wrote in a blog post explaining why Google wants to be involved in the European action.
Google believes it can contribute to the debate, especially since its launch of Chrome, Pichai wrote. "Of course creating a remedy that helps solve one problem without creating other unintended consequences isn't easy — but the more voices there are in the conversation the greater the chances of success."
Mozilla has added its voice to the discussion, arguing that the EC got it right with its preliminary findings.
"I've been involved in building and shipping Web browsers continuously since before Microsoft started developing IE, and the damage Microsoft has done to competition, innovation, and thepace of the Web development itself is both glaring and ongoing," Mozilla Chairperson Mitchell Baker says in a post on her blog.
Selective Enforcement?
Of course, the parties involved in the antitrust action may not be wholly motivated by commitment to the principles of unfettered free markets and fair competition.
The EU's antitrust regulators appear to engage in selective enforcement, suggested Raymond Van Dyke, a technology attorney and partner at Merchant & Gould. "Although they aver their independence, it is odd how competition standards vary when European companies are under consideration," he told the E-Commerce Times.
The Justice Department's conclusion is an indication that there may be no need for direct government intervention, Van Dyke noted.
"With the emergence and re-emergence of powerful new contenders in the information technology sector — such as Google and Apple — Microsoft, although dominant, must innovate to survive in a constantly changing, paradigm-shifting marketplace," he added. "Forced government intervention could have unnecessary and adverse ramifications to consumers worldwide."
Salvo After Salvo
Google's involvement appears to be the latest salvo in the legal and business wars it's been fighting with Microsoft over the last several years, said Chris Karagheuzoff, a partner in Dorsey & Whitney's trial group.
Google lobbied against Microsoft's proposed acquisition of Yahoo on antitrust grounds, he noted. For its part, Microsoft lobbied against a search advertising pact between Google and Yahoo.
"The business incentive for Google to inject itself into the EU case is clear," Karagheuzoff told the E-Commerce Times. "Google is launching its own Web broswer, 'Chrome,' and would therefore like to see a diminution in Internet Explorer's dominant market position."
Google's minuscule share of the browser market, in fact, may be one of the factors motivating it. Microsoft may well argue "that the only reason Google is jumping in now is because it wants to be on the same footing as other competitors that have filed for third-party status," Ronald Coleman, an attorney with Goetz Fitzpatrick, told the E-Commerce Times.
Is government action necessary to rein in a company when the product at issue is actually losing market share?
"The dominant position of Internet Explorer, just in the past few years, has dipped considerably," Karagheuzoff pointed out, "with Mozilla Firefox emerging as its strongest competitor, making the case for prosecuting an antitrust lawsuit far weaker."
One aspect of the EU case that has not been the focus of much attention, relatively speaking, is the theory that Internet Explorer's dominance — aided by Microsoft's bundling tactic — harms consumers and stifles innovation by forcing developers to design software and Web sites primarily for IE.
"That may be one argument that has some bite," said Karagheuzoff.