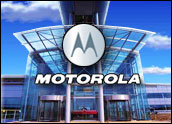 Struggling mobile phone maker Motorola announced Tuesday that it will sell Good Technology — its "push" email, calendar and contacts unit — to Visto.
Terms of the deal, which is expected to close at the end of the month, were not disclosed.
The sale comes just a little more than two years after Motorola acquired Good Technology in an attempt to compete with BlackBerry maker Research In Motion for a larger share of the business customer market.
The sale of Good Technology is part of Motorola's strategy for turning around its flagging mobile device business by making it leaner and more focused on the consumer market.
It also rids Motorola of a troublesome asset. In 2006, Visto sued Good Technology for infringing on patents associated with its push email and synchronization technology.
Motorola's stock was up 3.58 percent to US$3.76 per share in mid-day trading on Tuesday.
Turnaround Strategy
Motorola's decision to sell Good Technology to Redwood Shores, Calif.-based Visto is in line with the plan for reviving the struggling mobile devices unit outlined by Motorola's management, said Matt Thornton, senior equity analyst at Avian Securities.
"They've talked a lot about downsizing the mobile device business and refocusing on segments where they have a stronger presence," Thornton told the E-Commerce Times. "[Good Technology] is an asset that costs Motorola money to run while at the same time gives it no competitive advantage. Motorola also gets rid of the headaches associated with Visto's lawsuit."
Over the last few years, Motorola has quickly become marginalized in the mobile phone sector — especially in overseas markets, with the lone exception of China. In the Americas, however, Motorola still has a strong brand and deep carrier relationships, Thornton noted.
If the company's turnaround is successful, Motorola will look much different than it has in past years.
"[Motorola] isn't going to be a No. 2 player," said Thornton. "It's going to be a market share player almost like RIM — smaller, but more profitable, which is more important. The casual observer will be surprised at how Motorola's volume of units shipped will shrink."
The company will most likely focus on geographic markets such as North America, Latin America and China, he continued. At the same time, Motorola will make phones powered by a smaller number of mobile operating systems such as Google's Android platform, Windows Mobile and others.
"Motorola will focus on making consumer smartphones similar to the iPhone," Thornton predicted. "For the most part, Motorola's forgoing the enterprise customer."
Motorola might not agree with that interpretation, however.
"Motorola will continue to concentrate on providing best-in-class business-critical applications, secure management platforms and mobility services that empower the individual with the right information at the right time to streamline business processes and improve results," company spokesperson Bill Abelson told the E-Commerce Times.
Visto Wins Out
The real winner in the Good Technology deal appears to be Visto, a small, private mobile email applications company that — once the deal is completed — will have doubled in size to more than 400 employees worldwide.
Founded in 1996, Visto makes software that enables mobile phone users to synchronize their email, calendars, and contacts on the go. The company sells its technology to wireless operators such as Vodafone, Sprint Nextel, Telus and T-Mobile, said Doug Brackbill, chief marketing officer at Visto.
Once the deal for Good Technology goes through, Visto will count AT&T and Verizon Wireless as customers, he said.
Visto's technology works on a broad range of mobile architectures including Windows Mobile, Symbian, Android, the iPhone and Java. The company's technology supports a variety of email platforms too, including Hotmail, Yahoo Mail, Gmail, AOL Mail, Microsoft Exchange and Lotus Notes.
"The Good acquisition gives us an upper end email, collaboration and mobile VPN (virtual private network) services offering that give users access to corporate applications and data," Brackbill said.