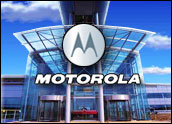 Mobile phone manufacturer Motorola reported yet another disastrous quarter of financial results Tuesday that sent the struggling company's stock plummeting 11 percent to US$4.03 per share in mid-day trading.
Motorola reported a $3.6 billion loss, down from $100 million in earnings during the fourth quarter of 2007. Fourth-quarter revenue was $7.1 billion, down 26 percent from $9.6 billion during the same period in 2007.
The company sold 19.2 million phones worth $2.35 billion during the fourth quarter, down 51 percent compared to the same period in 2007.
The poor financial results, which were even worse than Wall Street expected, took its toll in other ways. Motorola's board of directors voted to suspend its shareholder dividend.
Also, Motorola's chief financial officer, Paul Liska, was fired. Motorola gave no explanation for Liska's removal. Edward J. Fitzpatrick, the company's senior vice president and corporate controller, was appointed acting CFO.
Motorola forecasted a loss for the current quarter of 10 cents to 12 cents per share.
Massive Full-Year Losses
For all of 2008, Motorola lost $4.16 billion. In 2007, the company lost $49 million. Sales in 2008 were $30.1 billion, down 18 percent from 2007.
Motorola is suffering from two main problems — the global recession and lack of a significant presence in the high-end smartphone market, said Charles Golvin, a wireless telecom analyst with Forrester Research.
"In developing markets, people are not joining the wireless revolution," Golvin told the E-Commerce Times. "In developed markets, people are delaying buying new handsets."
The companies that have done a better job focusing on bringing smartphones to market — such as Research In Motion and Apple — are in better shape than Motorola, he said.
"That description doesn't fit Motorola," noted Golvin. "Motorola has a very broad portfolio of products that includes everything from the very low end to a few high-end products. Those high-end products are spread over a couple of different platforms. They certainly don't have a hit device that people are dying to have."
Absence of Consistency
Whether Motorola needs another best seller like its hit Razr phone of a few years ago is debatable.
"I don't like the idea that a company has to survive from one popular phone to the other," said Phil Redman, a telecom analyst at Gartner. "If you look at other manufacturers, you see they that they don't do that — they are more consistent in their delivery of their devices and the quality of their devices."
Nokia, HTC and Samsung are good examples of phone makers that consistently deliver reliable handsets instead of swinging for the fences with every phone, Redman told the E-Commerce Times.
"Motorola needs to get more product out there," he said, "and they need to do it before their brand declines to the point where they can't get back into the market. It's not there yet, but they're close — and I'm sure the shareholders and the board are running out of patience."
Change Is in the Air
Motorola has already announced 7,000 layoffs since last October. That's on top of thousands more layoffs announced in 2007 as the company attempts to cut costs. In addition, the company has had to indefinitely postpone the spinoff of its wireless devices business.
These two factors, plus the consistently dismal financial results over the past few years, could force changes at the top.
"I know that Motorola brought in [Motorola co-CEO] Sanjay Jha from Qualcomm to help spin off mobile devices," Forrester's Golvin said. "Now they can't do that for a variety of reasons. They have two CEOs, and that's probably a problem for them."
Two CEOs is a problem because it leads to a "lack of a single vision," he said. "It's not to say that those two guys can't get along and can't align themselves with a single strategy, but in a company going through what Motorola is going through, you want one leader at the top who is the captain of the ship."
Jha's days could be numbered, suggested Gartner's Redman.
"There are obviously going to be changes from the top down, and one wonders how long Sanjay Jha will be there if he can't stop the decline," he said. "They probably gave him two years, and the clock is ticking."
There's a chance that Motorola may exit the wireless devices business altogether if things don't change soon.
"There's still billions of dollars of revenue to be had in the handset business," Redman said, "but the window is closing on them, and they need to make some changes. It wouldn't make sense for them to [get out of the wireless devices business] now — but if the losses continue, they may have to, and that would be sad."