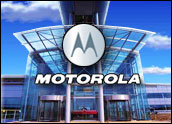 Struggling mobile phone maker Motorola announced drastic measures on Wednesday to cut costs as demand for its products flag in the now year-old U.S. recession.
The Schaumburg, Ill.-based company will cut the pay of its co-CEOs — Greg Brown and Sanjay Jha — by 25 percent in 2009, freeze its U.S. pension plans and stop matching employees' 401(k) contributions.
Motorola will provide more information, including how much cash the company hopes to save through the new measures, in its next earnings call, spokesperson Jennifer Erickson told the E-Commerce Times.
The news follows on the heels of the company's late October announcement that it would institute several measures to cut US$800 million in costs.
Motorola's stock was up .91 percent to $4.45 per share in mid-day trading. However, the company's shares are trading well below their 52-week high of $16.63.
No More Pensions, 401(k) Contributions
Motorola will freeze its U.S. pension plans starting March 1, 2009, and discontinue matching employee contributions to 401(k) plans on Jan. 1, 2009.
It may reinstate company matching 401(k) contributions "when business conditions improve," said Erickson.
Could these cost-cutting measures to benefits packages affect the company's ability to retain and recruit talented employees?
"With the layoffs and things like that, I'm not sure how high a priority winning new employees is for [Motorola]," Charles Golvin, a wireless telecom analyst at Forrester Research, told the E-Commerce Times. "I think they're focused on making do with the employees they have."
Mobile Devices a Drag
Motorola, which has been beset by problems since 2006, has cut 10,000 jobs since early 2007 in an effort to conserve cash and streamline its various businesses.
The biggest problem at Motorola is its struggling mobile devices business, which the company has planned to spin off for some time.
"They hired a CEO from Qualcomm to run that business," Golvin said. "Now, they have two CEOs running the company — and the market conditions aren't there to effect that spinout."
Motorola's cable and enterprise businesses are doing reasonably well, he noted, "but the handset business is a big part of their revenue, and it's dragging down the entire company."
Quest for the Next Razr
Motorola's last big consumer hit in the mobile phone market was a thin, slick-looking flip phone called the "Razr." However, the company has yet to develop an equally compelling phone to follow the Razr's act.
"With the Razr, they had a runaway success," Golvin said, "but they were too focused on extending the volume of that success and not focused enough on being innovative in coming up with new products that could maintain that success. They rode that horse into the ground. They were inattentive to the 3G business and have steadily lost share around the world in important markets like the U.S. and China where they were once very strong."
Motorola's problems aren't limited to the lack of a Razr successor, he said. The company simply doesn't have the breadth of products that its competitors have.
One Motorola product that Golvin described as "promising" is the MotoZine ZN5, available through T-Mobile USA. The device has a 5-megapixel, high-resolution camera with a lens that was developed by camera giant Kodak. It retails for about $100.