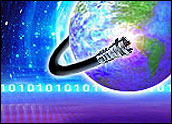 Cable operators Time Warner and Comcast are reportedly in talks with the owners of major cable television networks to organize a plan that will bring a large amount of cable programming online and made accessible only to the providers' subscribers.
The cable companies have met with Viacom, Time Warner, General Electric (parent company to NBC Universal) and others, wheeling and dealing to bring content from networks such as MTV, TNT and MTV online, according to a report in The Wall Street Journal.
"Right now, Showtime and HBO provide online replays of their content if you also are a subscriber to the channels. There are ways for them to make sure you're a subscriber. They've been experimenting with this for quite some time," Gerry Kaufhold, an InStat analyst, told the E-Commerce Times.
Cable Connected
The plan reportedly under consideration would bring the content in via a streaming format with advertisements, similar to sites like Hulu, which stream ad-supported network shows online for free. Subscribers would be able to access the shows — possibly including extra video content not previously made available — either while at home or elsewhere at no additional charge beyond their regular monthly subscription.
The cable companies are shooting for a launch date for the new Web service by year's end, according to the report. The overall goal is to bring in new subscribers and stem the perceived threat from the variety of free video content available online. These no-charge sites could potentially undermine the cable companies' subscription business model, which generates tens of billions of dollars in fees.
"Yes, there is a threat to cable companies from sites like Hulu.com and others," Andrew Frank, an analyst at Gartner, told the E-Commerce Times.
However, he added, there are a lot of deals that will have to be made in order to make it possible to bring all that content into one Web service.
"The big point is that the cable operators are also among the nation's largest broadband providers," InStat's Kaufhold said. "So you've got a double connection with the pay TV service going to your TV, and they also probably — through a bundle — offer a broadband service that goes to your TV. They are in a great position to monitor which programs are getting viewed in which cities by which subscribers at what time. They can get a tremendous amount of market research that will help them plan what there future offerings on VOD (video on demand) will be."
This could prove to be a positive effort for the cable companies, as they could monetize it as a premium service offering.
Channel Unavailable
However, Yankee Group analyst Josh Martin to the E-Commerce Times he thinks the cable companies are chasing the wrong trend.
"I don't know if this will benefit Comcast that much because once you accustom people to the technology, they can go out and find it on their own," he said.