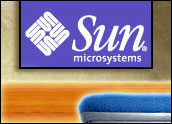 Computing giant IBM could be close to buying struggling server maker Sun Microsystems for US$7 billion, according to a Wall Street Journal report.
Though Sun is best known for making high-end servers, the crown jewel of the company's technology portfolio is its software, especially the widespread Internet programming language known as "Java."
Sun designed the Solaris operating system that powers its servers and workstations. Solaris is an offshoot of Unix. In addition, Sun designed a free software suite of desktop applications known as "OpenOffice," a direct competitor to Microsoft's proprietary, Windows-based family of programs known as "Office."
The commoditization of the server market over the past several years has sucked the life out of Sun's hardware business, forcing the company to complete several rounds of layoffs as it tries to compete with larger companies such as IBM, HP and Dell.
Sun's stock was up nearly 80 percent to US$8.91 per share in mid-day trading on Wednesday, most likely the result of the rumors surrounding an imminent deal with IBM.
Big Blue's stock was down 2.5 percent to $90.57 per share.
Deal Could End Sun's Server Business
If a deal with IBM goes through, the first move Big Blue will probably make will be the shuttering of Sun's server business, said Rob Enderle, principal analyst at the Enderle Group.
That's because IBM already has a commanding position in the server market and a slew of its own server products that it sells to large businesses and organizations.
"The merger will be kind of difficult for the Sun folks," Enderle told the E-Commerce Times. "They should be worried about leaving because they won't have many places to go. The end result is some customers may actually be OK with this because they were worried about Sun going under. IBM has a good history of taking care of customers."
IBM Wants Sun's Software Business
In its efforts to reinvent itself as a software company, Sun has invested billions in research and development.
"Sun's got two platforms that will flow into IBM's zone quite easily," Enderle noted. "Java is a big revenue engine. The intellectual property behind OpenOffice is the same code base underlying Lotus Symphony, which does pretty much the same thing as OpenOffice."
Essentially, an acquisition of Sun would help IBM close a series of gaps in its software business, which is especially important with the advent of cloud computing.
"Sun's software has always been well woven into the Web, and the Web is what cloud computing is based on," Enderle said.
Loyal Sun Customers
In the technology industry, Sun is renowned for the loyalty it has inspired in its customers over the years. If IBM strikes a deal with Sun, it would inherit those customers and begin to migrate them over to IBM products.
"IBM is getting access to those loyal Sun accounts, which could give IBM a big revenue upside," Enderle observed.
IBM can also offer those Sun customers something Sun has not been able to offer them: the vast array of technological know-how and systems integration muscle of its IBM Global Services unit, he said.