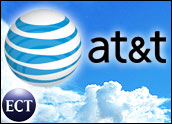 At least so far, the aggressive acquisition strategy that created the new AT&T is bearing fruit. The telecommunications giant reported a 37 percent jump in earnings in the first quarter, highlighted by additional profit from Cingular Wireless,in which AT&T has a 60 percent stake, and growth in broadband Internet service.
The increase came despite falling revenue. Sales came in at US$15.8 billion, down from $16.7 billion a year ago, when AT&T and SBC — which acquired the onetime Ma Bell and took its name — were separate companies.
DSL, Wireless Lead the Way
AT&T attributed the slowdown in sales to expected drops in its legacy business lines, including consumer long distance, with wireline revenue down 5.5 percent and enterprise revenue off around 7 percent, though the company noted that the rate of decrease had slowed from earlier quarters.
Growth was strong, however, in some key sectors, with 511,000 new DSL subscribers added in the quarter and Cingular Wireless adding 1.7 million subscribers.
CEO Edward E. Whitacre Jr. said the company "executed well" in the quarter and continued to keep its integration of the November, 2005 merger between SBC and AT&T on schedule.
"Cingular Wireless had outstanding results, as it further reduced churn, expanded margins and recorded its best-ever first-quarter subscriber growth," he said. "Our regional wireline operations posted revenue growth in consumer, as well as small and medium business. And in the large-business space, customer response to the new AT&T continues to be very positive."
The company is being closely watched. It is on the vanguard of a massive wave of consolidation in the telecom industry, heralding an industry shift away from traditional fixed wireline customers to more reliance on broadband Internet, business customers and wireless revenues.
Symptoms of Change
AT&T is involved in some of the largest and most complex merger integrations in the industry. The AT&T takeover is well under way, Whitacre said, with plans for network integration in place. "We've started the process of combining operations, and we've made good progress," he said. "Our front-line enterprise sales force consolidation is complete, and we are now able to sell our high-end enterprise portfolio to the small- and medium-business space."
The company is on track to save the projected $600 million to $800 million this year from the merger, he noted, with as much as $2 billion in cost-savings still projected for next year.
Depending upon the timing, AT&T may have to start to integrate BellSouth, which it agreed to buy in March in a $67 billion deal, even before the AT&T hookup is complete. The deals involve not only thousands of employees, but also extensive wireline and wireless networks that must be knit together.
The main benefit of the BellSouth deal is that it will give AT&T full control of Cingular, which is vying withVerizon Wireless and SprintNextel for dominance in the mobile space.
Symptoms of Change
Additional cost savings could also be wrung out of that merger, with analysts already cheering the short-term savings AT&T has reaped to date. Profits margins across most business lines were stronger than projected in the first quarter, UBS analyst John Hodulik said in a research note.
"This is a company that is in the middle of the transformation of the telecom industry," independent telecommunications analyst Jeff Kagan told the E-Commerce Times. "They have made several acquisitions. That can make it harder to read; however, the performance looks good."
The Cingular wireless business, in particular, looks "strong and growing," he added, and it may be some time before all of the cost savings have been wrung out of the companies that AT&T plans to buy.
"Much of the good performance is also about cost-cutting after combining the merged companies," he said. "There is still a lot of juice to squeeze in AT&T, and they also have BellSouth coming."