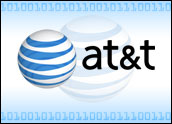 AT&T reported that its earnings rose 17 percent in the fourth quarter, bolstered by strong growth in the company's wireless subscriber base and the continued development of its regional wireline businesses.
The largest provider of phone, wireless and broadband Internet services in the U.S., AT&T increased its net income to US$1.94 billion, or 50 cents a share, from $1.66 billion, or 46 cents, a year earlier on revenues that grew by 23 percent to $15.9 billion, according to the company.
The San Antonio-based firm cited cost savings, coupled with strong growth in its DSL (digital subscriber line) and Cingular wireless phone operations as driving factors leading to the record earnings.
Shifting Priorities
The telecom giant, which changed its name from "SBC Communications" after buying AT&T in November 2005, has continued to shift its business strategy over the past year in order to be more competitive in the burgeoning wireless and broadband markets.
"The explosion of wireless communications has put even more pressure on traditional phone companies to adjust," Todd Chanko, an analyst with JupiterResearch, told the E-Commerce Times. "Right now, there is no inherent reason for customers to stay loyal to any one particular company."
The latest numbers reflect those changing priorities of the big telecoms, according to Chanko.
Cutting Costs
In addition to shifting business focus and concentrating on available synergies within mergers, more companies are adjusting their workforce. The company benefited from costs savings resulting from job cuts related to the AT&T acquisition, noted Edward E. Whitacre Jr., AT&T chairman and chief executive officer.
That downsizing enabled the firm to raise its estimate of savings following its $86 billion purchase of BellSouth at the end of December.
"Our execution continues to be solid, we closed the year strong, and AT&T has excellent momentum heading into 2007," Whitacre said in a statement.
Stiff Competition Across the Board
In order to stave off increasing competition from cable providers, AT&T is spending $4.6 billion to roll out a fiber-optic network designed to deliver IPTV (Internet protocol television) and advanced video services to as many as 19 million homes.
"It is now less about the relationship with consumers than it is creating additional services to sell them on," said JupiterResearch's Chanko.
The recent mergers have enabled AT&T to bundle multiple services to their customers, selling Voice over Internet Protocol (VoIP) calling, high-speed Internet access, video service and wireless calling plans, according to Chanko.
New York-based Verizon Communications has also been busy deploying a huge new fiber-based network expected to compete with AT&T's bundled services, as well as with a growing number of cable TV rivals.
Building a Better Network
Building out AT&T's new network cost the company 6 cents per share in 2006 and will run between 9 cents and 11 cents from earnings this year, excluding any construction in BellSouth's former territory, according to the company.
The integration of platforms will be vital for the company in the coming year as it looks to fend off the loss of more customers. AT&T lost 227,000 residential phone lines in the fourth quarter as consumers switched to the bundled Internet telephony offerings from cable TV operators or dumped their fixed lines in favor of mobile phones.
As part of the integration and cost reduction process, AT&T is also rebranding the Cingular Wireless unit, which reported strong fourth quarter growth on Wednesday, folding it into the AT&T brand.
"Enterprise revenue trends continue to improve," said AT&T CEO Whitacre. "Our regional wireline operations extended their record of revenue growth in both consumer and business. And merger integration initiatives continue to run on or ahead of our expectations."