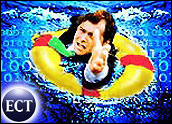 The boardroom of game publisher Take-Two resembled a scene from one of its violent video games as the often embattled firm booted five of six board members who were up for reelection.
Among them was chief executive Paul Eibeler, who had the dubious distinction of being removed from both the boardroom and the executive suite.
Ex-CEO Eibeler was replaced by Ben Feder, a former a senior executive at News Corp. who will work closely with Eibeler to ensure an orderly executive transition, the company said.
Investors had long lobbied for regime change at the company, which leaned on its wildly popular "Grand Theft Auto" video game to sustain revenue while not producing new hit game titles.
Writing on the Wall
The move wasn't wholly unexpected. The investor group leading the revolt, including finance titans Oppenheimer Funds and DE Shaw Valence Portfolios, last month said they would nominate and vote for new directors at the Take-Two's annual meeting in New York City.
After the Thursday vote, Strauss Zelnick, former CEO of BMG Entertainment (which became part of Sony in 2004), was named non-executive chairman.
"The new board plans to put in place strategies designed to revitalize Take-Two, focus on supporting and enhancing its creative output, improve its margins and ensure that the 2007 release pipeline meets expectations," said Zelnick.
Vowing that the game maker's new leadership would focus on maximizing its value to shareholders, gamers and employees, Zelnick also praised Take-Two's "exceptional brands and creative resources."
Crowded Field
These changes would likely mean diversifying both the platforms and the genre of games, said Michael Cai, director of broadband and gaming with Parks Associates.
"Providing sequels to some of their successful games is not sufficient," Cai told The E-Commerce Times, referring to the follow-up to "Grand Theft Auto."
Take-Two will have to start adopting a strategy for online gaming in order to compete with tough competitors such as EA and Blizzard/Vivendi — as well as console makers Microsoft, Sony and Nintendo, which also make their own video games, explained Cai.
"The competition is coming from many quarters," he added.
Missteps and Scandal
Take-Two's changing of the guard comes after several years of managerial, accounting and ethical missteps — including undisclosed sexual content in "Grand Theft Auto: San Andreas" — forced the firm's investors to act, said Cai.
Take-Two's stock has dropped US$18 since reaching a trading high of $28 in July 2006.