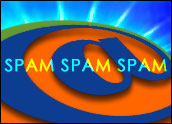 More Americans are taking a carefree attitude toward the nuisance of spam clogging their e-mail in-boxes, according to a new study.
Better familiarity, spam filtering and a decrease in pornography-laced spam have eased users' concerns over the scourge, the study concludes.
"It's starting to become part of life online," Susannah Fox, associate director with the Pew Internet and American Life Project, told the E-Commerce Times. "Once something is part of life online, people feel that they should just stop complaining about it and move on, even if they are still annoyed by it."
Thirty-seven percent of U.S. e-mail users are getting more junk in their personal e-mail accounts, while 29 percent see an increase in their work accounts, the Pew study shows.
"Employees are able to enforce and manage e-mail filters better," said Fox, explaining the 8 percent difference.
No Big Deal
What is somewhat surprising, said Fox, is that 28 percent of Internet users now say they don't consider spam a problem, up from the 16 percent recorded in the June 2003 Pew report.
"About 51 percent of e-mail users consider spam an annoyance but not a big problem," Fox said.
Cleaning Up Its Act
Perhaps one reason users don't consider spam a serious problem is that e-mail containing pornography appears to be dropping off compared to offers for drugs and financial opportunities. The latter often come from scammers phishing for sensitive personal data, according to the study.
"It is possible that with less spam that is seen as offensive or obscene, there are fewer complaints about it," Fox noted.
Generally, extreme reactions from users, especially women, occur when adult-oriented spam is delivered to in-boxes, according to the study.
Only 18 percent of e-mail users find spam a big problem, down from 25 percent cited by Pew in June 2003.
Deliveries Down
Fifty-two percent of e-mail users are receiving spam, down from 71 percent three years ago, according to Pew. More people also recognize spam today, with 68 percent of survey respondents saying they can identify junk mail when it turns up.
Another possible explanation for diminishing concern is that 71 percent of Internet users have filters in place, the report shows. Still, 55 percent of people surveyed have lost trust in e-mail due to the continued influx of spam.
Age also plays a factor in the perception of spam, the Pew report observes, with older Internet users — age 50 and up — finding spam less annoying, compared to those in the 18-to-49 demographic.