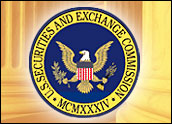 As part of its crackdown on fraudulent e-mails promoting bogus investments, the Securities and Exchange Commission has suspended securities trading of 35 companies that have been the subject of such e-mails.
Sometimes called pump-and-dump schemes, these e-mails typically urge the recipient to buy a stock — usually an over-the-counter or pink sheet security, which are loosely regulated and relatively inexpensive — because its value is about to explode.
100M Messages Weekly
The point is to have victims drive up the share price, at which point the fraudsters dump their own shares and rake in profits. The stock value quickly drops.
More than 100 million of such spam messages are sent each week, according to the SEC.
The SEC's investigation of the perpetrators is continuing, according to Mark K. Schonfeld, director of the commission's Northeast regional office. The trading suspensions will last for 10 business days.
Who Are the Perpetrators?
The SEC did not state outright that these companies were the ones behind the spam campaigns to pump up their stocks — but it is a safe bet to intuit that the majority of the firms fall into this category, Dmitri Alperovitch, a research scientist with Secure Computing, told the E-Commerce Times.
"Some of these companies are clearly suspect — changing their names and business operations over a period of weeks and using post office boxes as contacts," he stated.
Over a period of months, some of these companies have gone from designing computer games to the energy extraction business, Alperovitch noted. Usually their new industries are sexy and in high growth categories in order to lure potential victims.
Typical Fraudster Moves
Certainly, innocent companies can be caught up in these schemes indirectly. In one example provided by the SEC, Espion International, a firm that claims to be "a leader in the fight against e-mail based viruses, spam and outbound threats of corporate espionage," announced a partnership with a Microsoft Security Gold Partner.
Such an announcement is typical of fraudsters, Barry Minkow, CEO of the Fraud Discovery Institute and a former con artist himself, told the E-Commerce Times.
"They will use tools like press releases and radio announcements to lend credibility to their business," he explained.
Using press release distribution services, they will pepper the landscape with announcements of fake business partnerships, phantom product developments and other such alliances, Minkow noted. The hard sale is usually followed up in an e-mail or radio announcement, or in earlier days, a fax.
Minkow calls this the lottery effect. Normally conservative people get excited thinking they could win a landfall and lose normal caution.
"I have seen people do better due diligence at a grocery store than some people exhibit when they get into this mode," he said.
Increased Attacks
The SEC did not provide further details about the spam campaign itself. Spam, of course, has become a near untenable situation for many consumers.
The latest technology is image spam, Willy Leichter, director of product marketing for Tumbleweed Communications, told the E-Commerce Times.
"This is a huge new attack vector for spammers to get spam through commercial filters," he stated. "It embeds messages and pictures in the e-mail and then randomizes the images so each is different." Bogus text is also used to fool the filter, Leichter added.
Tumbleweed's Message Protection Lab, which tracks spam trends and practices, found that there was a huge jump last year in stock-tip spam, much of it using images to mask content.
"Now stock tips and drug information make up about 80 percent of spam," he said, noting that these campaigns have increased dramatically over the last three months.
Stock-tip spam clearly influences trading volume and short-term pricing, according to a recent study in which the lab tracked a sample of 15 spam waves with over 3,500 stock-related messages.
In the case of one stock, after each wave of spam, trading volumes would increase dramatically, and the stock price would spike — rising 20 percent to 100 percent for a few days, and then decline, Leichter explained.
"This stock has been on an overall downward trend, but each spam wave seemed to prop up the stock price for a few days," he added.
Stepping Up Enforcement
There's no doubt these trends are the driver behind the SEC's crackdown.
However, it is highly unusual for the SEC to suspend trading of so many companies at one time, Russell G. Ryan, a partner with King & Spalding's special matters and government investigations group and a former SEC director in the enforcement division, told the E-Commerce Times.
Even the code name of the campaign, "Operation Spamalot," suggests that the SEC is taking this threat more seriously..
---
The 35 companies whose trading was suspended Friday are: Advanced Powerline Technologies, America Asia Petroleum, Amerossi International Group, Apparel Manufacturing Associates, Asgard Holdings, Biogenerics, China Gold, CTR Investments & Consulting, DC Brands International, Equal Trading, Equitable Mining, Espion International, Goldmark Industries, GroFeed, Healtheuniverse, Interlink Global, Investigative Services Agencies, iPackets International, Koko Petroleum, Leatt, LOM Logistics, Modern Energy, National Healthcare Logistics, Presidents Financial, Red Truck Entertainment, Relay Capital, Rodedawg International Industries, Rouchon Industries, Software Effective Solutions, Solucorp Industries, Sports-stuff.com, UBA Technology, Wataire Industries, WayPoint Biomedical Holdings and Wineco Productions.
---