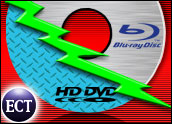 Electronics maker Toshiba lowered its sales target for high-definition DVD players and recorders based on slumping sales figures in the United States.
The Tokyo-based company now expects to sell 1 million of its optical disc players in the country by the end of this year, down 44 percent from its previous estimate of 1.8 million unit sales.
The Growing War
The current economic environment has slowed down sales considerably, said Mukul Krishna, global manager of digital media practice at Frost & Sullivan.
"Right now it's hard to expect people to invest in products like these because the economy is tight right now and many people don't have the disposable income," Krishna told The E-Commerce Times.
The sales correction also comes at a critical moment in the heated format war between Toshiba and a consortium backed by Sony. On store shelves, Toshiba's HD DVD players are pitted against Blu-ray Disc machines; many potential customers are waiting until a winner is declared.
"There has to be some incentive to gamble on a format," said Krishna, who expects that gamble to come when prices drop. Currently, Toshiba's top-end players cost as much as US$700.
The dueling formats have split the electronics industry into camps, with Toshiba placing an strong emphasis on the player because it has been one of its solid growth items of late.
The battle between formats has been raging for some time on DVD players, video game consoles and now PCs.
Numbers Down
The adjustment also comes one day after the North American HD DVD Promotional Group reported that recent pricing promotions on Toshiba's three high definition players and the growing number of titles in HD DVD format pushed sales "significantly ahead in the dedicated consumer electronics player market with 60 percent of all dedicated high-definition set-top players sold."
However, Blu-ray format backers are quick to mention Toshiba does not classify Sony's PlayStation 3 as a Blu-ray player, although it does count Microsoft's Xbox 360 as a high definition disc player.
The PS3 uses Blu-ray technology, while the Xbox 360 uses HD DVD format.
"It is not surprising, considering no one knows what, if any, format prevails," said Krishna.
The Formats
Both formats use optical discs that are the same size as a CD or DVD, but both have much higher storage capacities than current DVDs.
The Blu-ray Disc format has generated support from more than 170 major companies — industries like consumer electronics, computer video games, recording media, music and movies — and seven of eight major Hollywood studios support the Blu-ray format, with more than 100 feature titles already available.
Other Estimates
The announcement from Toshiba will likely affect another previous sales estimate: It predicted to sell 3 million units of HD DVD players and recorders worldwide by the end of its fiscal year in March 2008.
"Obviously, we are going to have to lower our previous global estimate," Yoshihide Fujii, head of Toshiba's digital consumer business, said at a news conference.