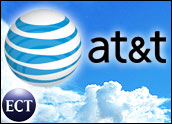 AT&T, the nation's largest phone company, is stepping up its rebranding campaign aimed at consolidating its wireless services into a single unified name.
The company will shed the Cingular name and replace it with AT&T at 1,800 outlets throughout the country this week. The move to rename Cingular Wireless stores comes as AT&T tries to beef up its profile ahead of the highly anticipated launch of Apple's iPhone.
"Our branding campaign is performing at and above projected levels, and customer response has been very positive," Randall Stephenson, AT&T's chief operating officer, said.
The store makeovers are critical to prepare for the late-June launch of the iPhone, for which AT&T will be the exclusive wireless provider in the United States, according to the company.
Axing the Jack
The San Antonio-based phone giant is accelerating its rebranding efforts of one of the best-known brands in the market, and will make the orange "Jack" logo and Cingular name disappear from new devices being sold.
The decision to move to this phase of the branding campaign is based on research that indicates that consumer awareness of AT&T — one of the best-known, most durable and iconic brands in the world — is high and ahead of expectations, the company said.
The process began late last year when AT&T acquired the remaining 40 percent of Cingular it did not already own through its acquisition of BellSouth.
Although the Cingular logo and brand were around for only about six years, the brand had become highly successful, with the wireless unit growing into the nations largest with 62 million phones.
One-Stop Shopping
AT&T executives are hoping a single brand name will help convince customers that the company is a one-stop shop for all kinds of communications and entertainment services, including long-distance and local phone service, television, wireless and high-speed Internet, said Mukul Krishna, global manager of digital media practice at Frost & Sullivan.
"They need to get ready for their quadruple-play strategy," Krishna told TechNewsWorld. "And having various brand names are difficult when you want to provide multiple services from a single source."
The company would not say how much the rebranding campaign would cost; however, over the past few years, to promote AT&T as the new name of SBC Communications, the company spent an estimated US$1 billion.