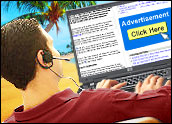 Online advertising and marketing firm24/7 Real Media saw its shares soar to a 52-week high on the strength of reports that Microsoft was nearing a deal to buy the company for about US$1 billion.
Shares of 24/7 Real Media jumped more than 24 percent to a yearly high of $13 Tuesday on rumors that the software giant was gearing up to purchase the company.
Big Players Lining Up
Redmond, Wash.-based Microsoft emerged as a prime contender to snap up 24/7 Real Media, which provides Internet advertising services, just days after search players Google and Yahoo wrapped up deals of their own in the online ad space.
It was the second time in as many months that 24/7 Real Media was the subject of buyout talk, with the WPP Group, the world's second-largest advertising company, in the role of the previous suitor.
At the time, analysts had estimated the company could be valued as high as $600 million.
Neither Microsoft nor 24/7 Real Media were immediately available for comment.
Hot Commodity
Online advertising companies have become a hot focus for takeover activity since Web search leader Google announced a $3.1 billion deal to purchase Internet marketer DoubleClick.
Shortly after the search giant snapped up DoubleClick, rival Yahoo said it would buy the remaining 80 percent interest in online advertising exchange Right Media for $680 million.
The move was aimed at boosting the reach of Yahoo's advertising to social networking sites.
In October, the search giant purchased a 20 percent stake in the privately held, New York-based ad exchange firm. More than 19,000 advertisers, publishers and networks buy and sell advertising on Right Media's auction-based exchange.
Ad Exchanges
The moves by the big players make sense, said Charlene Li, an analyst with Forrester Research, because the display ad buying process is a "convoluted, inefficient process."
"Ad exchanges like AdAuction.com have failed in the past," Li told the E-Commerce Times, "but the main reason is that there weren't enough advertisers and publishers involved to make it work."
Participation from Yahoo, Google and now perhaps Microsoft would provide the momentum to get started, she noted.
The key driver for success will be convincing other publishers to participate, said Li.