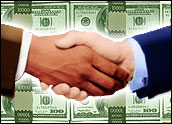 New York-based Cablevision Systems has agreed to sell itself for more than US$10.5 billion in cash to the family who founded the company.
The Dolan family, which founded the company in 1973, will assume Cablevision's debt on top of the $10.5 billion price tag, bringing the total to $23 billion.
During the last three years, the Dolans have tried and failed three times to buy out the public shareholders of Cablevision, which has 3.1 million cable subscribers in the New York area.
Not Just HBO
The hefty cost of the company isn't just for those 3.1 million cable subscribers. Cablevision also owns Madison Square Garden, Radio City Music Hall, the New York Knicks basketball team and the New York Rangers hockey team.
The purchases encompass all Cablevision business units, including the telecommunications services division, which consists of cable television, high-speed Internet access and telephone service.
In addition to the sport teams, Cablevision runs Madison Square Garden's businesses, including MSG Network programming and its entertainment sites.
Already Big Players
The Dolans already owned about 20 percent of Cablevision's common stock and controlled 70 percent of voting power. Going private could help free Chairman Charles Dolan and his son, CEO James Dolan, to make quicker decisions without having to navigate a board.
The company would be better able to compete in today's "increasingly competitive environment" as a privately held firm, said Charles Dolan.
The family will pay for the deal with $2.1 billion in equity through reinvestment of their Cablevision shares and $15.5 billion in debt financing. The company's existing debt will remain outstanding.
Going Private
Much like other cable companies, Cablevision faces competition for video customers from satellite broadcasters like DirecTV, as well as phone companies such as Verizon Communications, which are starting to offer video services, said Patti Reali, director of research with Gartner.
"Cable certainly has been progressive and has had good success with triple play, which has brought it a lot of momentum," she told The E-Commerce Times.
By finally landing the deal, the Dolan family may free up some spending restrictions that come along with being part of a public company, Reali noted.
"We are going to see an uptick in capital expenditures to support new customers' service acquisition," said Reali.
In fact, two other major cable companies, Cox Communications and Insight Communications, have also gone private in recent years.
"This new structure and an entrepreneurial perspective will enable us to keep growing the business," the Dolan family stated.