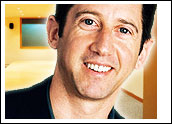 In December, Check Point Software Technologies acquired personal firewall leader Zone Labs for US$205 million, creating a high-powered security firm ready to crank out more products for businesses and consumers alike. One of the first applications to result from the acquisition is an upgrade to a popular Zone Labs product, Integrity. The new version, 5.0, reflects both the company's longstanding focus and its new collaboration with Check Point.
Zone Labs vice president of marketing Fred Felman spoke with the E-Commerce Times about strategy changes and the multiple meanings of interoperability.
E-Commerce Times: How has Zone Labs changed its strategy following its acquisition by Check Point?
Fred Felman: In some ways, our strategy hasn't changed, because we're still focused on creating important security products. But in other ways, there are significant changes, simply because we'll be able to have a broader reach.
Basically, the company has a two-pronged approach, focusing on consumers on one side and enterprises on the other. We want people to get the most out of their PCs, and that's the overall mission. But catering to the consumer market and the business market at the same time requires two different approaches.
With the two companies together, we'll be able to provide security for the Web, and for local area networks, and for server, and a host of other areas. By combining our research and products, there will be greater reach. But in general, our vision is the same as it has been, and so is Check Point's. We just want to create products that make security better and more efficient.
ECT: Zone Labs was already in the process of creating Integrity 5.0 when the acquisition happened. Did the management and ownership change anything in the development?
Felman: It changed a few things. We worked on enhancing interoperability with Check Point products. But most of the impetus for the change came from a large number of customer requests for feature sets. We also wanted to provide better security functions that we believe are important for this version, in order for people to make some extensions to how they can enforce policies. We wanted to make sure they could do that across a number of infrastructure platforms. Also, we thought people would like the opportunity to enforce policy at a local level.
ECT: Why is policy enforcement an issue?
Felman: There are many products that provide features that have software rules and policies. But not all of them enforce the rules. Without enforcement, what good is the policy? Zone Labs is very different from the competition in terms of scope and span of how to enforce policy, whether that means giving the user a warning message or making sure network access isn't granted to PCs that aren't compliant.
Also an issue is security management. Integrity 5.0 lets companies manage security software on employee computers in many ways, such as isolating the PC before allowing access to the company network. This doesn't put the employee at risk — it's not like they're locked out. The employee can be put into a secure area while the problem is looked at, and that way security can be managed easily.
ECT: How does the new product differ from previous iterations?
Felman: It's much easier to use and easier to manage. It has reporting functions and user interface enhancements. There are just many incremental things that make it a joy to use. One of the great things about our products is that people tell us they're easy to deploy on thousands of workstations, which spreads the word pretty quickly about effectiveness. Once people get to know our products, they start deploying them.
ECT: One of the new features on the Integrity 5.0 is enhanced instant-messaging security. Why do you think a feature like that is needed in a corporate environment?
Felman: Many companies are now using instant messaging as a tool for communication. Sometimes, the IM products are deployed with security functions built in, but not all of them are. A lot of organizations look at IM and take the Nancy Reagan approach: They just say no. Rather than let their employees use IM and risk security concerns, they just ban it from a company. The other reaction is the ostrich approach of allowing IM but pretending the security issues aren't there, and not doing anything about making sure the service isn't being compromised. Neither of those approaches is very effective or safe.
For our first IM security [product], we chose to build security around ICQ, which is what many IT professionals use to communicate with each other. Since their conversations should be the safest, in terms of network security, we wanted to focus on it first. But there's a need to secure all IM within companies, to make sure that dangerous content isn't spread. There's a definite, real requirement for that in the marketplace right now.
ECT: How does the product fit in with other Zone Labs offerings, in terms of the new strategy with Check Point?
Felman: It fits in well with our overall strategy of catering to both the business and the consumer markets. Our ZoneAlarm family is very popular, with millions of users. It's an interesting thing to have a consumer product that's so well utilized. It means that the product gets a great deal of testing and we get loads of feedback about changes that need to be made. From there, enterprise customers get the benefit, because when we use the feedback to build new products, they're naturally more stable and secure because the consumer products have been tested across a wide array of user configurations.