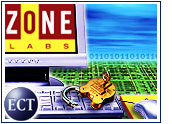 Check Point Software Technologies has announced it will bolster its security product portfolio by buying privately held Zone Labs, the market leader in personal firewalls, in a deal worth about US$205 million in stock and cash.
Zone Labs specializes in so-called endpoint security, with a focus on desktop firewalls for home and business users. The companies said increased attention to the security of single machines within enterprises makes Zone Labs a logical fit with Check Point, which focuses on perimeter security features, such as firewalls, and Web security offerings, such as virtual private network (VPN) client software.
"We've had tremendous interest from customers in recent months in endpoint security solutions," Check Point CEO Gil Shwed said in a conference call. "Together, we've truly got end-to-end security for our enterprise customers."
About 25 million people have a Zone Labs firewall on their desktop, and about half of that business is at enterprise locations. Founded in 1997, Zone Labs has 200 employees, all of whom will be retained, with Zone Labs being run as a stand-alone division, the companies said.
Across-the-Board Strategy?
The acquisition comes less than a month after Check Point unveiled its future security strategy to analysts, saying it would put more emphasis on internal and Web security while maintaining its focus on network firewalls, where it is a market leader.
Now, the company also will become a leader in desktop firewalls, ahead of such competitors as Symantec and Internet Security Systems. And Check Point is not the only company that will benefit from the acquisition. "It's a great move for Zone Labs, which kind of got abandoned by Cisco after [Cisco] purchased Okena," Richard Stiennon, Gartner vice president of research for Internet security, told the E-Commerce Times.
Stiennon explained why Check Point likely chose to make its move now.
"Post-MS Blaster, the desktop firewall has demonstrated that it was a very effective defense … so [enterprises are] broadening their use of personal firewalls from external remote machines to the inside," he said. "While Check Point has a pretty significant presence in remote machines because of their VPN client, VPN-1 Gateway, their firewall didn't have all of those whistles that enterprise-class firewalls have to have. Zone Labs does.
"I assume Check Point will start to replace their secure client with Zone," he added.
Winds of Change
Stiennon noted that the acquisition is part of an overall increase in desktop firewall use by corporations. "This is the trend led by Cisco, but also followed by Network Associates, [of] securing endpoints as well as gateways," he said.
Also, though he said Gartner usually does not approve when vendors branch out into new areas that require them to sell to different buying centers, "in the case of security software vendors, it's workable. They understand the software development cycles and sales channels, as opposed to network hardware providers getting into the desktop security space."
Meta Group analyst Mark Bouchard told the E-Commerce Times that although most enterprises already have firewalls deployed, there is still plenty of room for growth, both on the desktop and in other strategic parts of the network, such as the remote networks that Check Point secures with its VPN client software.
"Enterprises may want to find a provider that can answer all their firewall questions, from the perimeter to the desktop," Bouchard said. Meta predicts the overall firewall market will grow 25 percent per year for another two to three years. "We're seeing a proliferation of firewall installations, right down to the desktop."
Who's Afraid of XP?
Although the overall market is growing, at least one significant competitive threat is stirring for Zone Labs, with Microsoft saying its latest service pack will make improvements to the firewall included in Windows XP.
"Long term, Microsoft on the desktop is the biggest issue for any security vendor," Gartner's Stiennon said. "Microsoft holds all the cards. It is the biggest challenge to Zone Labs. Good time to sell."
However, in a conference call announcing the deal, Zone Labs CEO Gregor Freund said his company has not seen anything in the XP solution that makes it fear a drop in sales.
"We looked at it, and it appears to us that they're making some rudimentary improvements to the core firewall aspect," Freund noted. "This will not result in any impact on our business."
"They are learning that they have to take security more seriously, and we all compliment them for doing that," he added. "But the changes still don't address the fact that the main ingress points into the desktop are e-mail, instant messaging and applications, and the XP firewall doesn't give the user the ability to filter those effectively."
Maximize Advantages
Even if Microsoft's push further into the firewall market does prove to be an issue for third-party vendors, Stiennon said those vendors still will have a major advantage over the Redmond, Washington-based software giant.
"The one thing Microsoft doesn't do very well is enterprise management of a lot of client devices over time," he said. "For Zone Labs plus Check Point, which still has industry-leading security management solutions, their major opportunity is going to be to do more and more security management in an easier and easier manner."
Check Point's acquisition capped a busy day of buying on the software front. BMC Software announced Monday that it would buy the assets of Magic Solutions from Network Associates in a deal worth $47 million in cash, while EMC announced it would acquire VMWare in a deal valued at $635 million.