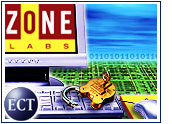 As individuals and companies have become more aware of the dangers facing electronic data, demand for security products has skyrocketed. At Zone Labs, a company that makes personal firewall software both for consumers and enterprises, a little insecurity has gone a long way.
As a result of a surge in the consumer and commercial firewall markets, Zone has become one of the leading companies in the sector, alongside much larger players like Symantec and Network Associates.
Amid heated competition, how does Zone keep a cool bottom line — and can it keep growing?
Steady Ride
Zone's flagship products are Zone Labs Integrity, which protects corporate data, and two flavors of its consumer-focused software, Zone Alarm and Zone Alarm Pro. Recently, the company also introduced IMsecure software for securing instant messaging sessions.
Despite the recent recession and subsequent uncertainty, the company, which was founded in 1997, has maintained continual growth in the last 10 quarters.
This quarter, it recorded gross bookings of US$10 million, and it now boasts a customer base of 25 million, including both paid and free users of the company's technology.
"Given the economy, those numbers show we're pretty much swimming against the tide," Zone Labs COO Irfan Salim told the E-Commerce Times. "We're proud of that achievement."
Rise to Power
When Zone Labs first was founded, it needed to find a way to build brand and hook customers. The company soon realized there was no better way than to give away its products for free.
After the resulting surge in downloads, it did not take long for the company to become established in the firewall space. Although much of its software was not bringing in revenue, eventually the company had 3 million paid users, 800 enterprise customers and 2 million installations on enterprise desktops.
Conrad Herrmann, CTO of Zone Labs, told the E-Commerce Times that success came because the company focused on making its software as easy-to-use as possible. This may seem like an obvious strategy, but he noted that it was an unusual one.
"There were a few personal firewalls available when we started out, but they were complicated and hard to use," he said.
When the company began targeting enterprise customers, Herrmann said the same strategy applied.
"You'd be surprised, but we emphasized exactly the same characteristics of the consumer software — that it's easy to use and install," he said. "Even if you have very savvy IT people, their time is still limited. They don't want a complicated firewall that takes multiple steps to implement."
Peaks To Climb
Although its install base is impressive, Zone Labs still has work to do to convince more consumers, and especially enterprises, that it is the right company for the job.
Some ISPs may prove to be a sticking point, for example. Steve Rose, director of professional services at Minneapolis-based VISI, told the E-Commerce Times that he has seen a 400 percent increase this year in requests for firewalls. But he does not list Zone among the ISP's vendor partners.
"I see more of a demand for hardware than software," he said. "Software-based solutions are primarily geared for an individual computer user. They do a fine job for a person that has one computer hooked up to broadband."
In contrast, when a customer has multiple computers or runs a business, Rose said he recommends a hardware solution from a company like Cisco or NetScreen.
"It's the small office that's really starting to address the need for security, and they realize they need some kind of firewall," he said. "It makes more sense for them to go with a hardware-based product."
Future Think
Unlike its firewall software, Zone Labs' IMsecure product faces little competition, except from instant-messaging application providers, and the company expects the software to become popular in both the consumer and enterprise spaces. As more companies employ IM as a business tool, adoption of IMsecure could accelerate at a healthy clip.
Also, in the security space, competition is a great thing, according to Salim. "You need solutions that are innovative and current, but if one company becomes too dominant, it's dangerous," he said. "It's not good for the industry."
He noted that if any single company were to establish a firm hold on the market, malicious hackers would work especially hard to break that company's products. As Microsoft has learned, having huge market share numbers makes a company a bigger target.
"It's good to have many players in this industry," Salim said. "Of course, it's also nice to have a degree of success."