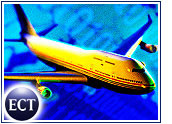 As e-commerce shoppers have become as comfortable booking travel online as they are buying a book on Amazon.com, the competition in the online travel market has become brisk indeed.
Although the sudden decline in travel after the terrorist acts of September 11th caused fiscal repercussions for travel companies long afterwards, the industry seems now to be looking at rosier days ahead.
An increase in corporate travel spending and the push toward better comparison shopping will most likely reward companies that can do both well online, analysts note, but this shift also will mean that sites that do not change their sales strategies might do well simply to book the next flight out of e-commerceville.
Who will win the online travel bonanza — and who will lose?
Strength in Numbers
Although the major travel sites — including Expedia, Travelocity, Cheap Tickets, Orbitz and Priceline — each have distinctive designs, what they offer is basically the same.
Where these types of sites traditionally have specialized in one area, like inexpensive airline tickets, now they are geared toward offering a full range of travel products — from tours to hotel rooms to last-minute trip packages.
This is a direction that has been largely determined by consumer desire to have a one-stop shopping experience, said Bob Goodwin, Gartner managing vice president, who told the E-Commerce Times that the more a site can offer, the better its chances for differentiating itself in a crowded marketplace will be.
"That's why you see these sites with air, car, hotel, and the rest of it," he said. "It's the idea of giving the consumer the integrated experience by linking all these together. It's powerful."
The losers in such a scenario might turn out to be direct sellers, such as those sites operated by airlines or tour companies that offer only single-type packages and no mix-and-match capabilities. Most airline sites are trying to move beyond their traditional offerings by providing hotel, car and package information.
"Everyone is moving in the direction of having as much under the same umbrella as possible," Goodwin said. "If you don't have that, then you're trying to get it."
Compare and Contrast
Another area in which the larger players can trump smaller sites and traditional airlines is in the ability to compare itinerary features. Sites that have limited comparison options will stumble next to their more technologically savvy competitors.
Although travel sites like Hotwire.com have boasted about providing good comparison capabilities for many years, the market now is fierce enough that each site is trying to beef up its offerings even further. For example, Expedia now provides in-depth hotel details to aid comparison decisions.
David Dennis, Expedia project manager, told the E-Commerce Times that the listings include information about several rooms available at each hotel, which is standard fare. But Expedia ups the ante by offering 360-degree visual tours and expanded photo displays. It also stays ahead of the pack in the way that it entices flexible travelers to search for rates, compare airfares and configure hotel and air prices at the same time.
Dennis credits the site's hotel partnerships, noting that Expedia has the largest inventory of hotel rooms and negotiated travel rates. "Our initiative with hotel partners is designed to reduce costs and automate systems on the back-end," he said, "which will enhance our lodging offering, and help us secure great values for consumers."
Michelle Peluso, COO of Travelocity, told the E-Commerce Times that the site also has gone above and beyond the expected by focusing on the details. "I think the online travel industry has yet to build a brand that has emotional resonance in the way other products do," she said. "By focusing on what the customer wants in this way, I think we have a huge opportunity to drive loyalty."
Corporate Market
Another way to tell the winners from the losers is to determine who can attract corporate customers the most adroitly. Kendra Thornton, spokesperson for Orbitz, told the E-Commerce Times that as companies have cut budgets, they have looked for better ways to save money on travel.
"You're seeing more Fortune companies looking at how online travel sites can meet their needs," Thornton said. To court the market, Orbitz has launched a special corporate program and has attracted McDonald's, which chose the site as an exclusive travel provider.
Orbitz is not alone in trying to woo corporate travelers. Expedia has launched a program too. The battle between the leaders should prove to be interesting. "Similar to the shift a few years ago when leisure travelers started booking online," Dennis said, "corporations now realize they can reduce costs and mange their travel programs more closely with online tools."
Auction House
In the arena of bidding sites, the losers might end up being the standard auction models that have intrigued travelers in the past. But to remain in the game, these auction sites must expand their offerings if they want to stay competitive.
Smaller sites like SkyAuction.com might need to broaden their bid-only structure if they want to win the war. Already, top bidding site Priceline has changed its blind-bidding format to allow customers to see what they are bidding on.
Brian Ek, spokesperson for Priceline, told the E-Commerce Times that the site has two different ways to buy a ticket. Travel shoppers can choose either blind bidding or a retail ticket, which lets them take advantage of frequent flyer programs by choosing their airline.
No matter who wins or loses in the online travel market this year, Ek noted that it won't be a site that will turn out to be king of travel. It will be the consumer. "All these sites are trying hard to attract customers, and that means it's going to benefit the consumer," he said. "If you're a traveler, 2004 will be your year."