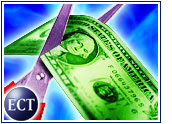 For many online shoppers, Overstock.com has become a favorite bargain-hunting destination. The e-tailer offers up to 80 percent off the sticker price of items ranging from dresses to computers, and it has dedicated staffers in its customer service and warehousing departments to keep the operation running at Internet speed.
Yet the road was not always so smooth for Overstock.com. Unlike some of its e-commerce brethren, it did not have abundant startup money, and challenges abounded. Now, even though it has established a solid customer base, the company still is working to expand with bold initiatives.
Will the champion of rock-bottom prices manage to stay at the top, or could it end up as low as its price tags?
Bumpy Beginning
Back in the heady dot-com days, it seemed that anyone who could write a business plan on a napkin could pull in millions of dollars in venture capital. But that was not the case for Overstock.com, according to Patrick Byrne, the company's CEO.
Byrne told the E-Commerce Times that in the fall of 1999, he walked the streets of Silicon Valley seeking funding — and was turned down by 55 venture capitalists.
"Each one is a scar on my back," he said. "I was hearing about all these kids dropping out of Stanford and scratching out a one-page business plan that got them $40 million in VC funding. And I just kept getting thrown out."
Despite hearing the word "no" ring in his ears many times, Byrne persisted and founded the company anyway. Now, he believes the scars were worth the trouble, because lack of VC involvement actually helped the company.
"When I was approaching people for funding, they kept saying things like, 'You should focus on getting more eyeballs,' and other things that made no sense," he said. "I thought we should focus on customer service, fulfillment and not blowing a lot on technology. I think that's why we're still here."
There is no magic formula for Overstock.com's staying power, he added, except perhaps its emphasis on fundamental business practices. "We were founded on old economy principles, and that's still how we operate," he said.
Ingredients for Success
As part of staying true to its old-school roots, Overstock.com puts a great deal of emphasis on making sure its warehouse is running properly. Byrne said the company's fulfillment operation was set up at low cost and is extremely flexible.
"We built our entire warehouse operation for $2 million," he noted. "Amazon spent $300 million, and they have many warehouses. Anyone who buys more than four warehouses doesn't know what they're doing, in my opinion."
Admittedly, Amazon is far larger and operates on a much greater scale. But the shoestring approach to technology extends to all of Overstock.com's operations, not just its warehouse. For example, Shawn Schwegman, the company's CTO, told the E-Commerce Times that the site faced a big decision six months ago, when it hit server capacity. Rather than buy a $4 million box from IBM, it decided to stay thrifty.
"We're about as close to free as you can get," he said. "We [chose] a Linux cluster for our back-end database, using Oracle." There were some hiccups starting out, he noted, but everything seems to have evened out.
"It's very scalable. That's what we love," Schwegman said. "And the price is right."
Also, because the company has liquidated the assets of many dot-coms, it has been able to acquire pricey servers and desktop PCs at bargain-basement prices. "Those dot-coms went crazy, buying super-expansive hardware," Byrne said."We're benefitting from that now."
Taking On the Competition
Overstock.com shares the online marketspace with a variety of competitors, including e-tailers like Buy.com and Shopping.com. But Byrne said he considers Amazon.com to be the most significant roadblock on Overstock's path to greater success.
"Other people have tried liquidation and died off," he said. "In some ways, we're out there alone. But in other ways, it's a game between us and Amazon."
To compete, he said, Overstock has tried to boost the amount of Amazon-like goods that it sells, especially books and music.
"We're offering these things cheaper than Amazon, and over time that becomes a grinder," he said. "We'll grind them to dust."
Cloudy Future?
Challenges to Amazon aside, as part of its strategy for the future, Overstock.com has embarked on an ambitious plan to enter the travel market. It will offer discounted airfares, hotel rooms and rental cars.
Although the company's Linux clusters will be able to handle the traffic, that does not mean consumers will flock to the site. In fact, Forrester analyst Henry Harteveldt said he believes the travel push is an ill-advised move on the part of the company.
"It's a stupid idea," he told the E-Commerce Times. "There are so many outlet travel sites already, like Travelocity and Orbitz. Overstock.com seems like a company in search of an idea. Travel will not solve their problems."
He added, "Overstock has entered a real rough-and-tumble arena. The travel industry is not a night at the opera; it's a hockey game. They'll find themselves bloodied there."
In terms of the nontravel portion of Overstock.com's site, Harteveldt had a gentler view of the company's future prospects.
"There are tons of excess items," he said, "[and] there's some great stuff out there. From that standpoint, they do have a very solid offering."