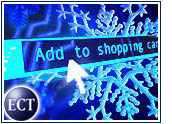 Maybe it's a sign that e-commerce is getting up there in years. After all, before you've seen it all once and then start to see it again, you have to be around for a while.
Whatever the reason, the fall of 2003, though just hours old, is shaping up to be back-to-the-future time, with the battle for the hearts, minds and eyeballs of U.S. online shoppers being fought as vigorously as ever.
Forget that new-age stuff about multichannel retailing and brand building and all that. This is about getting people to click on a link that brings them to your site where they buy a product without ever touching or seeing it. How retro.
As if we needed to be clubbed over the head with the idea that we're in a time warp, Shopping.com is back. Yes, the URL to end all URLs, the domain name born to dominate, is back in action. This time, it's a vehicle for DealTime.com, one of several comparison-shopping sites finally gaining some traction.
Say What?
Comparison sites? Traction? Well, enough at least to make the big boys like Yahoo take notice. Yahoo thinks it can do comparison shopping better than those sites — and add a lot more value to the shopping experience to boot — but the point is they're still alive and kicking and are going to be part of the shopping season in 2003 just like they were in 1999.
This is good news for e-commerce, right? Maybe, though my confidence is a bit shaken by the factoid at the bottom of the Shopping.com home page that explains, with an apparently straight face, that the site enables a shopper to compare more than 1,132 tea cups at 28-plus stores.
Tea cups — that's the missing link in the e-commerce evolutionary chain. No wonder. We tried to jump from books to furniture without stopping at tea cups. This time for sure.
Seriously, though, apart from the Yahoo effort, which is a genuine attempt to move forward on the e-commerce evolutionary chain, much of what seems to be happening by way of foundation-laying for the holidays is run-of-the-mill stuff that easily could have happened four years ago.
Why? Maybe e-commerce is as mature as it's going to get in many ways. After all, the amount of innovation and technological advancement that took place from, say, 1997 to 2001, was probably a generation's worth of incremental improvements under any other circumstances. If as many companies and as much capital had been thrown at television in the 1950s, we would have had color, cable, digital and high-definition before the decade was over.
Same Old, Same Old
So Amazon.com trots out a sporting-goods store, its latest offering, not surprisingly rolled out just as the fake Christmas trees start to appear in department stores. Not much new there, just the usual Amazon model of a bunch of merchants selling a bunch of brands, all easily accessible from a single location.
It's the same old Amazon formula that took it from world's biggest bookstore to world's biggest store. Not that there's anything wrong with that — it's just hardly cutting-edge anymore. Same goes for Overstock.com and Buy.com and their attempts to undercut Amazon on prices — not exactly groundbreaking activity.
So where's the real innovation? Maybe it's just not necessary. Without much prodding, without major leaps forward in the way we shop online, e-commerce has been growing steadily and by all accounts will continue to do so. The people at Yahoo Shopping predict a strong season for the e-commerce sector.
Their attempts to innovate and shake things up will help, but after a stretch of four or so years in which the world of e-commerce could evolve while you slept, watching it change now is like watching the grass grow.