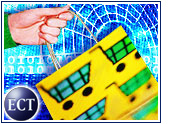 In a bid to beef up its online shopping offerings, Yahoo has announced it will roll out an integrated shopping portal that combines traditional algorithmic searches with paid-ranking techniques. The initiative, which is the first salvo in the all-important holiday e-commerce ramp-up, builds on the company's recent acquisition spree in the search space.
The new features are the result of hundreds of usability tests as well as customer feedback, Yahoo Shopping vice president Rob Solomon told the E-Commerce Times.
"Web users are gravitating to search destinations now," Solomon said, pointing to data that shows 60 percent of Web surfers make search engines their first destination online. "The days of the shopper browsing around are over. People now expect to find exactly what they're looking for."
More Choice
Yahoo's effort also involves markedly expanding the number of merchants it works with on its shopping portal as a way of giving consumers more choice while also driving extra revenue for Yahoo. To make the push work, the company is moving from a fairly closed shopping model to one that seeks to capture shopping sites of all sizes.
"We knew we had to open up the platform to make it work," Solomon said. The new product search feature offers merchants storefronts with Web hosting, credit card processing and other features for less than US$50 per month. Previously, only major advertisers or full-scale Yahoo merchants could be included in shopping search results.
IDC analyst Melanie Posey said Yahoo's new openness to smaller merchants and its one-stop solutions for e-commerce should resonate with businesses that would love to grab even a fraction of the millions of surfers who use Yahoo as a jumping-off point for their Web excursions.
"They've made it easy to use and made it affordable to even the smallest businesses," Posey told the E-Commerce Times. "I think it's an offering that will resonate, given how much Web traffic Yahoo sees day in and day out, and especially heading into the holiday season."
The Borrowers
Essentially, Yahoo is hoping to merge the most popular comparison-shopping features from top e-merchants like Amazon.com and comparison-shopping search engines like DealTime — including user and professional reviews and side-by-side feature and price comparisons — with the search technology it bought this year by acquiring paid listings leader Overture in a deal worth $1.6 billion.
In buying Overture, Yahoo also acquired AltaVista, which specializes in the type of algorithmic search that has vaulted Google to the top of the search-engine heap.
"We think there's a void," Solomon said. "There's no place where you can get comparative results and all the features and functionality of a good comparison-shopping site."
Yahoo also is working to better combine its shopping features with its main search page, Solomon added.
Other features include the ability to generate side-by-side product spec comparisons and to weed out search results based on price or other factors. The shopping site will be able to generate personalized product recommendations on the basis of a shopper's preferences, and shoppers also can find out the true cost of items, including shipping and taxes.
Try and Try Again
Although many of the features to be included have long existed on Yahoo Shopping, the new interface makes them easier to find while also generating easier-to-navigate pages that still include ads and paid listings, but do so without crowding other features or results off the page, according to Solomon.
"We think the e-commerce world has been a little bit stale from an innovation perspective in the past two or three years," Solomon said. "A lot of sites are doing great work in one area or another, but there's never been a single destination where you can do it all."
Attempts to merge search and shopping are nothing new. AOL has been feverishly revamping the way it handles e-commerce on its high-traffic network, and leading search engine Google has had a shopping site, known as Froogle, in beta testing for about a year.