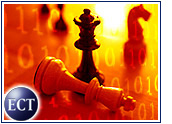 Marking the end of an overseas battle between Internet heavyweights, Yahoo has announced plans to shutter its Australian auction site and direct users to rival eBay. Specifically, the company said it will close the site, known as Sold.com, later this month.
"We recommend that in the future, our customers try out the great service offered by eBay, our preferred auction service," said a brief note on the company's homepage.
It is unclear how much capital Yahoo has sunk into the Aussie auction experiment. It bought Sold.com in 2001 for US$15.6 million, hoping to gain quick market share in the space. Yahoo remains an active and key player in the portal and information market Down Under.
Planting a Flag
The move comes almost exactly a year after eBay invested an additional $65 million in its own Australia and New Zealand efforts, buying out onetime partner ECorp. Analysts saw that move as evidence that eBay intended to make a play for dominance in Australia.
"Even the fastest-growing Internet companies need to find new growth markets to replace the meteoric growth here at home," Nielsen//NetRatings senior analyst Lisa Strand told the E-Commerce Times. "I think you'll see the battles happening all over the map."
Indeed, eBay recently made it clear that it intends to be a key player in the rapidly emerging Chinese marketplace, spending $150 million to take full control of EachNet.com and also buying into a Taiwan-based venture.
Been There, Done That
NetRatings data tells the story of how eBay came to dominate the Down-Under market. The auction giant's site drew some 1.2 million unique visitors in June, compared with about 300,000 for Yahoo's Sold.com.
EBay certainly can relate to Yahoo's decision to abandon a market after making a significant investment: The auction giant retreated from Japan after trying to establish a presence there for about two years. In fact, eBay ceded that market to first-mover and dominant player Yahoo.
Meanwhile, while many analysts have long believed eBay and Yahoo are destined to clash more in the United States, where they have largely co-existed so far, eBay recently announced a plan to use Yahoo for a major marketing push.
At home, both companies continue to set the pace for the resurgence of Internet stocks. EBay shares recently hit a 52-week high at $117 and are still trading above $100, while Yahoo stock hit a yearly high of $35 this summer and was trading early Friday at about $29.