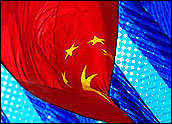 EBay has announced it will plunk down US$150 million to buy the remaining two-thirds of Chinese e-commerce site EachNet, which, like eBay, sells a wide range of items in both auction and fixed-price formats. The San Jose, California-based auction giant has held a minority stake in EachNet since last year.
The news propelled eBay stock past the $100 mark once again, with shares up more than a dollar to $100.26 in early trading Thursday.
Strategic Move
The auction giant has a mixed track record in Asia. However, eBay clearly believes the Chinese market is destined to provide the type of rocket-fueled growth that has helped make eBay one of the most highly regarded e-commerce companies on the planet.
EBay cited data from IDC and other sources that shows the Chinese market is primed for growth, with 59 million consumers already online and as many as 86 million expected to join the Web economy by the end of this year. That puts China second only to the United States, with the Chinese e-commerce economy expected to hit the $16 billion level by 2005.
"EachNet has built a great business and is in a fantastic position to take advantage of the long-term growth prospects of e-commerce in China," eBay CEO and president Meg Whitman said. She added that the move positions eBay to take advantage of the "future of China's vibrant Internet economy."
Building on Brand
EBay spokesman Kevin Pursglove told the E-Commerce Times that eBay plans to maintain the Chinese brand name but will transition the English-language version of EachNet to the eBay brand over time. "The Chinese brand name is already well known by Internet users in China, and we want to build on that success," he said.
EachNet is already widely diversified, with its 2 million members trading items ranging from clothing to calligraphy to computers and real estate. Anew bid is made every 7 seconds.
"EachNet will continue to follow eBay's successful practice of following the community's lead and providing necessary support … to grow the marketplace," Pursglove added.
He also said that EachNet CEO Bo Shao will remain on board to run the business and develop strategy, and that there are no plans to lay off any of the 150 EachNet employees at this time.
Golden Future
EBay first invested in EachNet last spring, just weeks after buying Taiwan-based online auction company NeoCom Technology for about $10 million.
Morningstar.com analyst David Kathman noted that although eBay has become consistently profitable, its own growth targets are ambitious and may be difficult to meet every quarter.
"With the e-commerce growth spurt calming down in the U.S., companies have had to look elsewhere," he told the E-Commerce Times.
China has become a target of U.S.-based companies because of the country's sheer size and the government's increased willingness to open up its economy. Dozens of American firms have made investments in various Chinese initiatives. "The Chinese market is attractive but also difficult for outsiders to crack, and it may take some patience to see the fruits of the investment," Kathman added.
Inside Track
EachNet gives eBay an inside track in China — something it lacked in Japan, the site of one of its few failures. eBay bailed out of its Japanese site last year after the site failed to gain traction against competitors, including Yahoo! Japan, that had a head start.
EachNet CEO Bo Shao, who co-founded the company in 1999, said China offers "unprecedented opportunities" for the type of person-to-person and consumer-to-person e-commerce in which eBay specializes.
EBay said the deal will close sometime in the third quarter and will have little or no impact on revenue this year, though it will dilute earnings slightly in the third and fourth quarters by one or two cents per share.