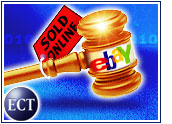 EBay is reportedly close to a deal to sell its Butterfields division, probably for considerably less than the US$260 million price tag that the auction house carried in early 1999, when eBay set out to leverage its real-world assets.
EBay will apparently sell Butterfields, founded in 1865 as Butterfield and Butterfield, to Bonhams, a London-based auctioneer that traces its own roots back to 1793.
Missed Match
The sale would be an admission by eBay that its efforts to use Butterfields to gain access to auctions of rare and high-priced art and antiques have not panned out as originally envisioned. The sale would also indicate a recognition of the premise that a brick-and-mortar presence is not necessary in order for eBay to continue to thrive.
"This is not exactly a shock, because the Butterfields experiment never really worked out the way eBay hoped," Morningstar.com analyst David Kathman told the E-Commerce Times.
"EBay has outgrown Butterfields, now that they dominate online auctions so thoroughly, and has ambitions to expand into more fixed-price selling."
Sign of the Times
EBay scooped up Butterfields in April 1999, just as the auction house was moving forward with a planned IPO. The all-stock deal was initially valued at $260 million, but was worth closer to $200 million when it closed later that year.
Around the same time, Amazon invested about $45 million in a joint venture with Sotheby's, which lasted less than a year.
The sale would not mean that eBay is giving up on auctions of high-priced goods. In February, the company signed a deal with Sotheby's to host and operate live auctions for that company.
"Basically, eBay is in a much different position today than they were when they bought Butterfields, and it doesn't really make sense for them to own it now," Kathman added. "Not that Butterfield's is really hurting eBay significantly; it's just become irrelevant for the direction in which eBay is going."
Shrinking Entity
EBay began downsizing Butterfields almost immediately after it bought the San Francisco, California-based shop.
By the end of 2000, it had effected two rounds of layoffs; a third round came earlier this year. Most of the cuts were aimed at what was supposed to be a growing live-auction business. Planned live-auction sites in Chicago and New York were shut down and expansion plans shelved, as well.
Meanwhile, eBay's international sites, which have been fueling growth in recent quarters, will be facing additional competition. Yahoo! said it would partner with UK-based QXL Ricardo to develop sites for Denmark, Norway and Sweden.
Yahoo! had previously closed some European properties after eBay became a dominant player there. On the other hand, eBay recently exited the Japanese market, saying that it was not gaining ground there on Yahoo.