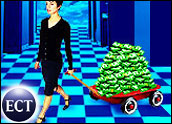 Despite all the reports of bankruptcies and losses, some companies are doing just fine on the Internet. But the list of companies that are "getting rich" may be surprising. Aside from the obvious handful of bellwether e-tailers, such as Amazon.com (Nasdaq: AMZN) and eBay (Nasdaq: EBAY), some seemingly unlikely candidates are raking in cash from online shoppers seeking hard-to-find items and deep discounts.
While analysts have been saying multichannel retailers are the companies most likely to succeed in the future, a growing number of pure-play dot-coms also are posting profits.
Among these e-tail moneymakers, business models vary widely, as does the merchandise mix. Perhaps the only overarching characteristic of all successful online retailers is profitability.
Move Over, Multichannel
Multichannel retailers are garnering lots of attention, and there is a growing perception among industry observers that companies that operate both brick-and-mortar and online branches are cashing in.
"It's not fair to say that e-commerce is dead, but it's very fair to say that multichannel retailing is clearly on the rise and dominating the success in that space," Forrester Research analyst Jim Crawford told the E-Commerce Times.
But according to GartnerG2 analyst Geri Spieler, the numbers do not necessarily support that premise. Spieler told the E-Commerce Times that Internet margins are very thin — between 12 and 15 percent. "For most brick-and-mortar companies with a Web site, like Nordstrom's, online sales are only 1 percent of the gross revenues," she said. "So it's not really a moneymaker."
Narrow Niches
Some of the most successful online retailers have found a niche and served it well, according to analysts, with eBags.com, BlueNile.com and BlueFly.com standing out in a landscape littered with unprofitable players.
Ebags.com peddles 150 brands of bags and accessories and claims it has sold more than 1.4 million items since its May 1999 launch. The company recorded 43.7 percent sales growth in the first half of 2002 and turned the corner to profitability in the second quarter.
Jewelry e-tailers are also performing well. BlueNile.com, for example, generated US$15 million in revenue during the second quarter by selling diamonds and fine jewelry. That figure represents a 37 percent increase from the year-ago period.
"Traditionally, consumers have not had access to comprehensive jewelry product information," said BlueNile.com CEO Mark Vadon. Vadon added that BlueNile offers consumers full disclosure in terms of product information and price, with a "build your own" feature that helps shoppers choose styles they like within their budget.
"You'll continue to see niche players in e-commerce where the product category is difficult to serve through brick-and-mortar channels," Forrester's Crawford noted.
Discounts and Deals
Meanwhile, BlueFly.com peddled $2.4 million in discount designer clothing during the month of August alone, a 9 percent increase over the year-ago period.
"BlueFly has never been on the same scale as Gap or Eddie Bauer, but they are hanging in there by maintaining a fairly solid audience," Nielsen//NetRatings analyst Dawn Brozek told the E-Commerce Times.
Analysts also pointed to reseller sites that offer deep discounts, such as SmartBargains.com and Overstock.com, as examples of successful sites that are turning a profit. And they are not just eking out a subsistence-level income. Overstock.com announced record sales of $1.35 million during the three-day weekend following Thanksgiving in 2001 and held an initial public offering in May 2002, offering 3 million shares of common stock at $13 per share.
Getting Rich?
While some sites are doing just fine, the reality is that about 93 percent of retail sales last year were transacted in brick-and-mortar stores, according to Crawford. This fact is what has lead analysts to view multichannel retailers as the most successful future players in the space. Nevertheless, there is obviously room for pure plays to not only make a profit, but also make millions.
"The online space is still maturing," Brozek said. "The dot-com deaths are probably not over yet, but those companies that are achieving profitability in such turbulent economic times are well positioned for future success."