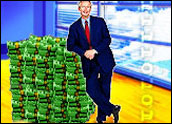 In a rare piece of e-commerce venture funding news, SmartBargains said it has received a US$9 million cash infusion as the online bargain retailer seeks to reach more Web shoppers.
The Boston, Massachusetts-based company, which had secured $47 million in total venture funding to date, also announced expanded marketing deals with MSN and AOL. Those pacts are designed to drive traffic to the company's site as it competes with other discount and closeout e-tailers, such as Overstock.com.
In the Margins
The funding round was led by Seattle, Washington-based Maveron LLC, whose portfolio already includes Drugstore.com, eBay and eStyle.
Maveron partner Debra Somberg said SmartBargains has built a business with healthy profit margins, something that many early e-tailers left out of their business models.
"SmartBargains' deal-driven approach is the kind of commerce that is optimal for the Web," Somberg said.
Sounds Like
SmartBargains CEO Carl Rosendorf, a former Barnes & Noble executive, often compares SmartBargains to eBay.
"Consumers are motivated by great deals," he said, adding that because stock changes daily and discount prices do not last, the site benefits from a "sense of urgency."
Rosendorf also pointed out that SmartBargains was founded in mid-2000, at the end of the dot-com bubble.
"The fact that has been borne out over time is that this medium remains very powerful," Rosendorf told the E-Commerce Times in a recent interview. "That simple fact has kept shoppers coming back time after time."
You've Got Partners
SmartBargains was funded in an initial round worth $33 million. Among those taking part in that funding were its founders; Gordon Borthers, a Boston company that has been handling retail closeouts and overstock for more than 100 years; and AOL Time Warner Ventures.
SmartBargains said its two portal partnerships with MSN and AOL will help expose its products to more than 70 million Web users. The company has been the so-called anchor of the AOL bargain basement since early last year.
Meet and Compete
The company will need exposure to compete in a crowded field for discounted merchandise. Dominant e-tailers like eBay, which has moved toward more fixed-price selling of late, and Amazon, which has repeatedly touted the value of its used goods offerings, are positioning themselves to capture part of the market.
Meanwhile, SmartBargains' biggest direct competitor is probably Overstock.com. That company went public earlier this year but has continued to post losses. Its stock has lost more than half of its value since its June IPO.
"Overstock is moving in the right direction, cutting losses, but it's not there yet, and investors just don't have the same appetite for money-losing companies they once did," Morningstar.com analyst George Nichols told the E-Commerce Times.
Neither discount e-tailer, meanwhile, enjoys great name recognition or traffic on the Web. Both fall outside the top 50 Internet sites as reported by comScore/Media Metrix.