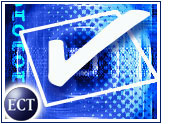 It's a beautiful vision: No more long lines of people waiting to vote at local elementary schools or city community centers. No more shuttling back home during a workday to stand in those lines. No more moments of wondering why, in a technological age, paper ballots and pencils are still in use.
More a futuristic scene than an impossible dream, the dream of electronic voting, or e-voting, almost certainly will become a reality — but probably not in the next few years. Much remains to be done before citizens gain the ability to vote in elections either online or at wired polling centers.
How far in the distance is the promised land of e-voting?
High-Tech Progress
The term "e-voting" encompasses an array of technologies, ranging from electronic kiosks to voting via the Internet. They all focus on the same objectives, however: streamlining the voting process, boosting voter turnout and making elections more efficient.
Toward these goals, several initiatives in the United Kingdom have been worth watching. That country seems eager to get its citizens hooked up for e-voting and has launched a variety of experiments. For elections last May, 18 e-voting projects were funded, including voting via interactive TV, e-mail and text messages, electronic kiosks and Internet sites.
In the United States, VeriSign has been tapped to design key components of a system that will let U.S. citizens abroad cast absentee votes over the Internet. The initiative is mainly geared toward letting military personnel vote in the 2004 general election. Success with this system could determine the future direction of e-voting initiatives in the United States.
Nonstandard Practices
Even if VeriSign's technology proves successful, however, that still does not mean e-voting is right around the corner.
Arnold Urken, a professor of political science at the Stevens Institute of Technology, told the E-Commerce Times that he founded one of the first election testing laboratories for e-voting. He also ended up closingit down.
"We ran into problems because the election officials didn't want to do rigorous testing," he said. "I think the big problem is that everyone's rushing to make use of electronic voting when there aren't good standards, particularly security."
Urken added that he believes the government has established a practice of buying the next best thing when it comes to e-voting technology. A strategy based on second-rate technology prevents the United States from developing the type of strong verification standards that are necessary for e-voting security.
Vital Matter
However, security remains a huge issue, especially because U.S. voters have seen what can happen when the outcome of an election is called into question. Among other problems, distrust, suspicion and name-calling can cast a pall over the electoral process.
Jehmu Greene, president of Rock the Vote, confirmed that there is widespread concern over voter fraud.
"There are concerns that should be addressed with better security measures," she told the E-Commerce Times. "Otherwise, you're looking at voter disenfranchisement."
Other problems can crop up as more and more standards are added to the mix. As Urken said: "Putting standards in place is not just a question of defining them. We need better software tools, and ways to have transactions be as reliable as possible."
Obstacle Course
Beyond programming standards, other roadblocks also remain along the road to e-voting. Gartner vice president Christopher Baum told the E-Commerce Times that most suchobstacles are political, not technical.
"There has to be an agreement on how the ballots are handled," he said. "That doesn't mean that everyone has to use the same technology, but the ballots will have to be treated in the same way by everyone."
In addition, he noted, political wrangling has led to what might be the largest obstacle to e-voting adoption: paying for it.
"There has to be an investment in voting technology," he explained. "There have been monies promised by the federal government, but that funding round hasn't happened yet. So, the government is slowing down on its promises for election reform."
Rosy Future?
Although many challenges remain to be overcome, advocates of e-voting still believe a system can be put in place, perhaps in time for the 2012 election.
"We look forward to the day of utilizing electronic signatures," Greene said. "We do think that e-voting will happen, and we definitely believe that when we have the ability to vote online, more young people will participate in the process."
Baum forecast that up to 25 percent of all votes in the 2012 election could come through electronic channels. He believes a major step will be the introduction of electronic voting centers that allow people to vote from wherever they are, rather than requiring them to travel to a polling place near where they live. This will eliminate the need for voters to find a way to balance work and voting in the same day — a benefit that could significantly boost voter turnout.
E-voting success also could mean a change in the way the government works, Urken said. "Unless the model is changed, e-voting is too expensive for now. But if the government became an information vendor, it could transform their role and make e-voting part of that."
Urken mentioned that the government could begin by facilitating data sharing, survey creation and information warehousing. With technological initiatives like these in place, e-voting would fit in nicely as part of a larger puzzle.