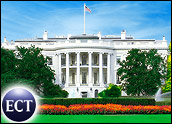 The Bush Administration is seeking to intervene in a class action suit filed by the Electronic Frontier Foundation against AT&T.
The suit concerns the telecom's collaboration with the National Security Agency in carrying out its once-secret surveillance of communications within the U.S. by people alleged to have terrorist ties.
The government has asked the court to dismiss the case, which was originally filed in February, on the grounds of national security.
Closely Watched
Privacy advocates and civil libertarians alarmed by what they see as a rollback of civil rights since September 11 are geared for a fierce fight over this case.
There are serious implications for businesses as well — especially as it is becoming clear the government is not afraid of testing once-accepted boundaries of privacy.
"This case is being watched closely by corporate counsel for tech firms around the world," Sean P. Melvin, incoming dean of the school of business administration at LaSalle University told the E-Commerce Times.
"Even if AT&T — or the government — is successful at having the suit dismissed, the onus will be on similarly situated corporations to develop safety mechanisms ensuring that they do not face the same type of scrutiny and potential lawsuits as AT&T is facing now," he said.
The result will be that such firms will be much more reluctant to voluntarily share with the government — including regulatory agencies — across the board, he said.
Long History
AT&T has a long history of cooperating with the government on important national security projects, observed Bernard Golden, CEO of Navica and author of Succeeding with Open Source. He also once worked for Pacific Bell.
"[AT&T] used to manage Sandia Labs — nuclear weapons research — for the Federal Government, he told the E-Commerce Times.
"The corporation probably cooperated in allowing access to telephone calls for the NSA based on a long relationship and previous national security work," he speculated.
"Despite this history, they are now involved in a political dispute relating to what are the permissible levels of surveillance. This illustrates the danger of relying on a cooperative relationship rather than assessing the proper bounds of each initiative regarding legality, potential brand impairment, etc. AT&T may now suffer business damage due to not considering all aspects of the project," he concluded.
There can be more significant ramifications for businesses besides damage to a brand, La Salle University's Melvin added.
"If the class action moves ahead, this will be new legal turf in the area of privacy law and information protection. The impact on Internet and communications companies is that information protection may even become a fiduciary responsibility for a company's officers and directors to safeguard privacy or face civil — and even potentially criminal — liability."