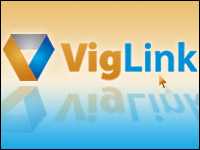 A startup developer of technology that helps publishers better connect sales with affiliate marketers has closed on seed funding from First Round Capital, Google Ventures, and such individual investors as LinkedIn founder Reid Hoffman.
The financing for the company, VigLink, will be used to take the product out of beta and into the general market within the next few months.
VigLink is developing a platform that can install a code snippet on a Web site to allow ordinary hyperlinks to track users as they navigate to the destination URLs. Publishers are then able to secure revenue from links to the sites of affiliate marketers, based on the traffic they send. VigLink automatically tracks the clicks and aggregates the resulting commissions for payment to the publisher.
"Every time a click leaves a publisher's site, value is being created, and publishers should be able to capitalize on that value," said Oliver Roup, "but our analysis shows that the complexity and labor involved are prohibitive more than half the time. VigLink has created a product that makes solving that problem transparent and effortless, not just for new content but for the back catalog as well."
Huge Industry
There are more than 7,500 sites, — typified by Amazon and eBay — that pay for traffic on a commission basis, according to VigLink statistics. These payments total some US$1.5 billion in commissions. What VigLink brings to the table is a better way to automate the process and ensure that the publisher is appropriately credited, CEO Oliver Roup told the E-Commerce Times.
Tracking these clicks manually can be an arduous, labor-intensive process, he said. With the VigLink platform, "the publisher installs our Javascript library on the Web page. That installs tracking code to the affiliate marketer's link so we can track when a user navigates away and purchases a product."
Common Practice
Such transactions are very common on the Web — sometimes in the least likely venues, said Matthew Prince, an adjunct professor at The John Marshall Law School's Center for Information Technology and Privacy Law and CEO of CloudFlare.
"It can be as simple as a blogger reviewing the latest camera," Prince told the E-Commerce Times. "Readers might think the blogger is writing for altruistic purposes but in fact he's receiving a reward from the camera manufacturer."
On the other end of the spectrum, Prince said, there is the multibillion-dollar ecosystem of publishers — a disperse industry of news sources, bloggers and Web pages populated with automated content in order to sell products.
VigLink is merely making these connections more apparent to the publisher, he said.
"I think what VigLink is offering will result in a massive power shift within this industry," he continued, "with power accruing to the publishers, who will be able to then command higher rates as opposed to the fees set in one-off transactions."
Automated Content
One risk is that VigLink may inadvertently provide support to sites that generate junk content — or steal from other sites — in order to support their marketing activities, said Prince. "VigLink will have to work hard to figure out a way to make sure all of the revenue is generated for legitimate publishers."
It won't be easy — a fact that VigLink has acknowledged, according to Prince. "They are thinking this through, but it is a real cat-and-mouse game and something that companies struggle with.
Privacy Issues
There are some privacy issues associated with this service that consumers should be aware of, noted Jeffrey D. Neuburger, partner with Proskauer.
"There has always been tracking with traditional affiliate relationships. What I wonder about is how much personally identified data is exchanged when that activity is automated and enhanced with technology," he told the E-Commerce Times.
Whether VigLink collects personally identifiable data, and if so, what it might do with it are questions that do not appear to be addressed on the company's Web site, he said.