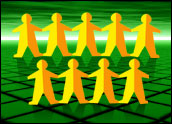 Mark Amtower — author, speaker, CEO coach, radio host and consultant — is very picky about who represents his products and services — and whom he represents. Still, he is a fan of the affiliate networking model, which is based on third parties or Web sites promoting products or services for a fee.
Amtower has formed his own network, populated with a small number of associates and friends whose work he respects. "I recommend other people's books and audio products for a fee; they do the same for mine," he told the E-Commerce Times. The network administrator takes care of the financial split, he said.
While it hardly matches the reach and breadth of services and affiliates offered by the largest companies in this space — Commission Junction and LinkShare, among others — Amtower's network does provide validation for a concept that is often overlooked by marketers in the small and medium-sized space.
"Affiliate networks can be a great way to build sales and revenues," he said.
Lucrative Channel
On paper, the affiliate market appears to be among the most lucrative marketing channels, Lorrie Thomas, principal of Lorrie Thomas Web Marketing, told the E-Commerce Times. Over the course of her career, she has run seven of these networks. At its core, it is a revenue-sharing model among a network of Web sites or partners that receive a cut of the sales of any products that they promote.
Thomas now teaches a course at a local university, and when she explains the concept, she said, students' eyes light up. "They don't want to hear about anything else after that."
In reality, though, using an affiliate network to drive sales can be tricky, she said.
The Web site assumes all the risk, after all. The dynamic between advertiser and affiliate is therefore not always seen as a partnership — especially if the advertiser does not focus on relationship building with its affiliates.
"Affiliate marketing can work beautifully if the right management process goes into the execution," said Thomas.
A few best practices can go far to leverage an affiliate network, Mike Kowal, vice president at LinkShare, told the E-Commerce Times.
"For example, before last year's holiday shopping season began, LinkShare provided its merchants with holiday shopping 'best practices' to help increase sales," he said. "As a result, merchants within ournetwork saw a 27 percent increase in year over year sales on a same-store basis — well above the average 1 percent."
Do's and Don'ts
Following are some do's and don'ts about choosing — and then leveraging — the best affiliate platform.
1. Be proactive and involved with affiliates.

"Affiliates are always looking for inside knowledge into your business," Iman Jalali, director of sales and marketing at Train Signal, which provides computertraining software, told the E-Commerce Times.

Train Signal runs an affiliate marketing campaign on the ShareaSale network that is managed by Andy Rodriguez Consulting. "Keep them up to date on what's selling, what's hot, what's coming soon," Jalali advised. "Check out their Web sites [and] programs; see if there is anything you see that can help them convert better."

2. Research competitors.

Find out what they are offering — not only in terms of commission rates, but also with respect to exclusive offers to affiliates, such as coupon codes specifically for them. In other words, Jalali said, "don't let your program run on auto-pilot and expect amazing sales."

3. Decide whether you want a big network or a small one.

It's not a slam-dunk decision: Larger networks have more eyeballs for your products and make the administration and back-office operations easy. "Can you imagine the hassle of cutting checks for 3,000 affiliates every month?" asked Lorrie Thomas.

On the other hand, the smaller networks won't be as expensive as the largest ones, she noted. It can cost severalthousands of dollars to set up a program and then maintain it on the larger networks. Indeed, understanding the costs requires its own bullet point.

4. Research the costs.

Some platforms, for example, establish commission minimums. "If you don't have enough affiliates promoting you, you might have to pay penalty fee," Thomas said.

Also, users sometimes don't realize that besides paying a commission to the affiliate, they owe the network a portion as well.

Investigate the costs of driving traffic, Raymond Lyle, founder of Driving Revenue, told the E-Commerce Times. From the affiliateperspective, these fees — especially the startup costs — are understandable: It doesn't want to set up an account for a tiny store that may not generate all that much in sales.

5. Build the right mix of affiliates — both in volume and variety.

Affiliates can be categorized according to what they offer or do, such as search functionality, coupons, email lists, content and incentives, Mike Jacobs, chief services officer at iMarketing, told the E-Commerce Times. "You have tounderstand each of these categories and which mix is best for your business."

Be proactive about identifying search affiliates, Jacobs also advised. "You do that through preregistration, subnetworkrestriction and screening processes. If you are going to have affiliates doing search for you, there are a lot of potential pitfalls. You need to able to contact them directly if something changes — such as an offer or a price."

"The networks do not always have the most up-to-date contact information," he pointed out.

6. Set limits.

If you are allowing your affiliates to run pay-per-click for your Web site or products, put controls on what keywords they can and cannot bid on to avoid cannibalizing existing efforts, advised Craig Vodnik, VP of North America at Cleverbridge.

Also limit — or at least know — where and how your links are being used, he told the E-Commerce Times. "An affiliate who places your links on a site with questionable content could tarnish your brand."

7. Don't fixate on the technology.

"Remember, this is a revenue-sharing model. This is all about the partnership," Thomas said. "The technology is secondary."