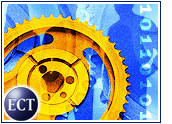 In part 1 of this article, the E-Commerce Times examined how network redundancy — a vital if not exactly mesmerizing technology — is becoming more accepted, especially by those who control the IT purse strings.
James Decrescenzio, owner of Internet Data Storage & Systems, noted that terrorism and natural disasters have highlighted the need for redundant systems. Fortunately for e-businesses that want to weigh many options carefully before making a purchase, many levels of redundancy are available, ranging from in-house solutions to higher-level strategies like Akamai's e-business continuity offering.
However, the decision about which option to buy is not an easy one. As businesses sort through the array of available choices, questions may ariseabout cost, security and the viability of short-term solutions, leading some to wonder if all that firepower is really necessary.
Balance Due
The answer is surprisingly simple: With network redundancy, if you skimp, you may suffer. Low-cost options do exist, especially if an IT department's workers can perform a significant portion of redundancy work, minimizing the need for outside resources.
In general, however, companies should expect to invest significant amounts of capital in network redundancy. In particular, site mirroring can cost a pretty penny because it essentially duplicates a company's network architecture and needs.
As Sean Clouse, president of commercial hosting firm The IQ Group, told the E-Commerce Times: "The most popular option is having a fully hot-swappable network, and that can be expensive. But when you compare it to the cost of having a site down for an entire day or a couple days, it's worth the money."
Budget Strategies
For e-businesses that do not have a tidy sum earmarked for this purpose, there are still ways to ensure redundancy without employing full-on site mirroring technology. For example, Akamai has been touting its e-business continuity suite and is promoting the fact that it costs less than mirroring.
Dan Hang, the company's e-business continuity solution manager, told the E-Commerce Times that many clients come to Akamai because their budgets can no longer support the expense of high-level redundancy.
"The costs are pretty tough for a lot of IT," he said. "Even if they've done high-level ROI, they're still having problems because the cost of mirroring is so high."
In some ways, a company like Akamai that provides redundancy for less money is in a good position to capture market share. Although IT spending is on the rise, it has not yet reached a level at which CIOs are willing to write a blank check for network-redundancy technology.
"People are doing research on this," Hang said. "They've been using site mirroring, and now they're doing research to see how to lower costs. So, we're finding that offering lower-cost solutions is a very good play."
Short-Term Solutions
Companies also have begun to investigate the value of using short-term network redundancy that can allow for uptime during expected traffic spikes. By using stronger redundancy strategies for only part of the year, some companies have found they can save money and stay online even during busy shopping seasons.
Paul Froutan, vice president of engineering at Web hosting firm Rackspace, told the E-Commerce Times that he has seen a great deal of growth in demand from companies seeking to boost redundancy in anticipation of holiday traffic spikes.
"They've been doing this for a couple years, so they know when their busy times are," he said. "If they go down during a slow time, that's unfortunate, but to go down a couple weeks before Christmas is a disaster."
One benefit of using short-term solutions like those offered by Rackspace is that companies can be assured of frequent hardware upgrades.
As Froutan noted, "When some companies implement network redundancy on a long contract, it may be hard for them to scale and upgrade when they need it."
Locked Down
Although cost is an ongoing issue, security seems to be firmly in place as part of nearly all network redundancy options. Hosting firms have become more meticulous about keeping client equipment and data safe, and they often tout their lockdown strategies.
"If you have a colocation firm, they're going to try and replicate whatever security procedures you already have in place," Hang noted.
Meanwhile, companies that have built their own site mirroring, rather than turning to a third party, can employ a number of access-control measures and network barriers to keep equipment safe from internal and external threats.
Network redundancy may not be the sexiest phrase in e-business. It certainly does not match the flavor of a dot-com term like "burn rate." But despite its lack of cadence, it describes a vital technology that keeps Web sites running at full speed — and that is always exciting.