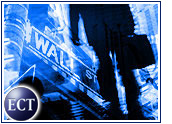 A massive power outage affecting nearly one-fifth of the U.S. population had little to no effect on Internet performance, according to firms tracking the Web.
In part because of disaster-proofing put in place after September 11, 2001, the Internet continued operating with little disruption, according to Web performance measurement firm Keynote Systems. That company said the only problems seen online at the outage's peak were slowdowns on some news sites, including USAToday.com and CNN.com.
Those longer response times likely were tied to heavy traffic as users searched for information about the outage, which some at first feared was the result of terrorism. By Friday morning, even New York-based Web sites, such as The New York Times and the Nasdaq stock exchange, appeared to be operating normally.
Widespread Impact
At its peak late Thursday, the outage reportedly affected more than 50 million people, including those in the New York, Detroit and Cleveland metropolitan areas. Although authorities still were working to pinpoint the cause early Friday, as many remained without electricity, federal officials quickly moved to reassure the public that there were no signs terrorism was involved.
"The Internet and the Web have enough redundancy and resilience to withstand most problems," Keynote analyst Eric Siegel said. "It's not surprising that a power outage, no matter how widespread, didn't appreciably affect the Internet and the Web."
According to Keynote's Internet Health Report, all major ISPs were operating smoothly as of early Friday.
Critical Infrastructure
Lloyd Taylor, vice president of technology at Keynote, told the E-Commerce Times that the Internet benefits from the fact that telecommunications has long been considered a critical part of the nation's infrastructure.
"All major providers have good data backups because telcos have always been very careful and focused on building and maintaining highly survivable systems," Taylor said. "As long as the generators keep running, we'll be okay."
Problems could begin to pop up if widespread outages were to last longer than 36 or 48 hours, he added, since most backup power systems are designed to be short-term fixes and not long-term solutions.
New and Improved
"The Internet has held up pretty well, considering," Gomez, Inc. spokesperson Alan Alper told the E-Commerce Times. "I think it says a lot about the technological infrastructure of the Internet infrastructure versus the electrical grid, which hasn't been updated in many years."
Alper said the same was true of financial services sites, which Gomez also tracks, with most showing no ill effects during the outage. Because New York City is a global financial center, concern immediately arose about potential economic impacts of the outage.
The power went out just after the stock markets closed Thursday, and the New York Stock Exchange quickly moved to assure investors it would be open for business as usual Friday morning.
Lessons Learned
While September 11th brought disaster recovery and the need for redundancy to the forefront for many enterprises, other companies have beefed up their ability to withstand outages for business reasons. For example, eBay last year inked a deal to outsource some of its Web hosting to Intel in a bid to spread out its servers and prevent the kind of downtime that had plagued the company in the previous year, likely causing millions in lost sales.
Keynote's Siegel said the Internet backbone is more susceptible to physical damage, such as a July 2001 incident in which a tunnel fire in Baltimore took down Internet service on the East Coast for several hours, or concerted attacks, such as the SQL Slammer worm in January of this year.