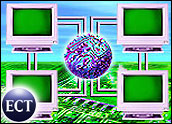 Of all the terms in e-business, "network redundancy" does not rank high in terms of excitement factor. In fact, even at industry events, the subject tends to make for glazed-over stares and drifting thoughts. But network redundancy deserves better. Without it, sites can be crippled or even struck down completely.
The technology allows companies, both large and small, to have better response time in an outage, more agility during traffic planning and a comforting backup system during load testing.
Although redundancy might seem like an easy beast to master, e-businesses need to consider many factors when deciding how much redundancy they need, including cost, business goals and technology strategy.
Got Your Back
Companies use various components of technology, making for a mix of platforms, service agreements, hardware and operating procedures. But one item that every e-business has is a network redundancy plan, even if it is just a homegrown solution.
There are no statistics on sites that have no network redundancy, said Sean Clouse, president of commercial hosting firm The IQ Group. He told the E-Commerce Times that such stats do not exist because a company would have to be crazy to have absolutely no plan in place.
"I don't know of any company that doesn't have at least a minimum level of redundancy," he said. "Even if you're just backing up network information to a tape drive, that's something."
Often, network redundancy is blended with other system redundancy controls that ensure software and data are also duplicated. That way, if a company's network goes kaput, customers should not notice because the backup server will be activated. Meanwhile, employees should not be severely affected because their data and applications will remain available.
Worth the Funding
Indeed, the benefits of redundancy are enormous. As well as simply providing a way to stay on track in the case of an outage, the strategy can help e-commerce sites weather unexpected traffic spikes and perform more effective load testing in anticipation of holiday surges.
Although there have been some struggles between IT departments and CFOs in the past, it seems as if many e-businesses have become aware of the importance of having more backup procedures in place, rather than fewer.
"Some people in the financial office haven't understood why you'd need redundancy to run the business," said James Decrescenzio, owner of Internet Data Storage & Systems. He told the E-Commerce Times that in the past few years, the trend has been that IT has asked for better redundancy, only to be rebuffed by other business departments that thought it was a waste of money.
After September 11, 2001, network redundancy got more attention throughoutthe enterprise, Decrescenzio noted. Suddenly, many companies realized that security and data protection were essential — and IT managers saw that realization reflected in their budgets.
"In the event of a disaster, you want zero downtime," he said. "Finally, companies see how there's a correlation between downtime and the bottom line."
Decisions, Decisions
As many CIOs and IT managers have found, there is an array of options when considering what kind of network redundancy to put in place. The general rule seems to be that the more money a company is willing to throw at the strategy, the better the CIO will probably sleep at night.
Although some hosting firms caution against overprovisioning, many in the field believe it is better to be safe than sorry.
Choices for redundancy range from low-level backup that can be done in-house to high-level site mirroring and e-business continuity services.
Decrescenzio noted that a company needs to think about which systems are most crucial and then plan accordingly. An e-commerce firm that has to have its online shopping site in place at all times will have different requirements than a company that has an e-business component but does not depend on shoppers for its revenue.
"There are many different levels of network redundancy," he said. "A good rule of thumb is to think about what would happen if everything at the company went down. What would you need to get running again first? If the answer is, 'Everything,' then you'd need a very high level of redundancy."
High-Level Solution
For larger companies and firms that capture customer loyalty by never having a site outage, simple network redundancy as done by hosting firms may not be enough.
One of the most common higher-level options is site mirroring, in which a duplicate site is built and maintained at a separate location. This option is a pricey one, but it is generally considered a dependable way to implement immediate failover, with no loss of site availability during the switch.
Akamai has been offering a business continuity package that Dan Hang, the company's e-business continuity solution manager, noted is increasing in popularity. "There's a tremendous interest in increasing uptime," he told the E-Commerce Times. "And one way to do that is with redundancy."
Because Akamai uses an approach that distributes content and applications over a global computing platform, Hang said it differs from site mirroring technology because it provides immediate failover at a significantly lower cost. Also, if large parts of a network go down, Akamai can switch to another network — an ability not always possible with site mirroring.
Although network redundancy is more accepted and ubiquitous than ever, CIOs still must consider other issues beyond availability. Part 2 of this article will cover cost, security and whether or not short-term solutions make sense.