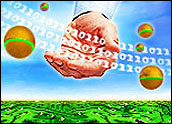 The IT industry purely loves digital information and with good reason. Creating, storing and archiving documents consisting of 1's and 0's provides the foundation for thousands of business computing solutions and billions of dollars in annual sales.
While the gospel of the "all-digital enterprise" inspires many proselytizers and true believers, companies in the real world tend to utilize both digital and physical documents and records. However, that process can result in an uneasy balancing act with sometimes serious repercussions.
Want an extreme worst-case example? Look no further than Pacific Gas and Electric (PG&E), the utility company that provides electric and natural gas services to most of Northern and Central California.
On September 9, 2010, a PG&E natural gas transmission pipeline in San Bruno ruptured and exploded into a devastating fire, killing eight people and destroying 38 homes. Not surprisingly, this tragic loss of life and property led to multiple investigations by PG&E, local authorities, insurance carriers and the California Public Utilities Commission (CPUC).
Those efforts intensified when it was discovered that though the company's records described the pipeline as seamless, investigators found multiple poorly welded seams that they believed might have caused or contributed to the rupture and blast. Complicating matters further, PG&E had never conducted inspections on the line that were capable of discovering bad welds.
Paper Chase
As a result, in October 2010, the CPUC ordered PG&E to produce records detailing the history, construction, performance and condition not just of the San Bruno pipeline but of its entire gas transmission infrastructure by March 15, 2011.
One might think that complying with such a sizable order wouldn't be that a big deal for a modern utility company driving nearly US$14 billion in annual revenues. One might think that, but one would be seriously wrong.
PG&E's efforts to digitize its records and archives reportedly have been troubled for years. So, meeting the CPUC's order resulted in a paper chase of monumental size. A preliminary study suggested that the company's pipeline archive included around 1.2 million physical documents, including inspection records, studies and reports.
PG&E rented San Francisco's Cow Palace, a cavernous venue originally designed to host livestock shows and rodeos, and commenced hand searching nearly 100,000 file boxes of paper records.
The sheer impact of that many physical file boxes is hard to grasp, so what does it mean in practical terms? The boxes — which are stored in warehouses near the Cow Palace — are being transported by forklifts carrying 30 boxes on each pallet, according to reports. That works out to about 3,300 pallets total, or enough to cover most all of an NFL football field in file boxes to a depth of about four feet.
Things got even stickier when an initial investigation found thousands of documents missing. That prompted some curious efforts, including PG&E contacting thousands of former employees to ask if they'd ever "happened to take home" materials relevant to the investigation for work or study.
Unable to meet the March 15 deadline, the company petitioned the CPUC for an extension, saying that it would need at least through the end of 2011 to comply.
That prompted outcries from victims of the San Bruno disaster who were trying to get on with their lives, as well as utility watchdog groups, several of which suggested PG&E deserved to be fined up to $1 million per day it was out of compliance.
Not surprisingly, the CPUC's proposed decision granting the extension the company requested, fining PG&E $3 million and threatening an additional $3 million fine if it failed to comply with the new deadline, left many incensed by what they considered a sweetheart deal.
The office of California's attorney general voiced serious displeasure, both at the size of the fine and the lack of oversight the proposed ruling offered regulators. While the CPUC is scheduled to vote on the proposal by April 11, virtually any result is likely to face close scrutiny and possible challenges. Resolution of investigations and litigation related to the San Bruno explosion and fire are still years and at least tens of millions of dollars away.
EMC's Captiva 6.5
An unusual situation? To be sure, but primarily in degree. Virtually every private and public sector organization maintains a delicate balance between managing physical and digital records, between supporting traditional and technological business processes.
Sometimes it takes an event like the San Bruno disaster to demonstrate just how far out of whack that relationship has become, but sometimes it takes much less.
So, can any IT solutions help companies effectively address and hopefully avoid such circumstances? Actually, yes, including EMC's Captiva 6.5, the latest update of the company's intelligent enterprise capture solution. Captiva 6.5 is designed to transform paper documents, faxes and other content into digital data used by business applications and IT processes. EMC benchmark testing found that a single Captiva 6.5 server can process more than 10 million images per day.
New customization, integration and management options notably simplify system deployment and reduce the time it takes for companies to begin using Captiva 6.5. In addition, the solution's new Production Auto Learning feature enables systems to automatically classify and extract important business information from documents as they are being scanned, notably accelerating the capture processes for invoices, loan documents, policy claims, and many other document types.
EMC's Captiva 6.5 is obviously aimed at global enterprises, but those are the organizations that have the greatest need for comprehensive intelligent capture solutions. They are also likely to be most aware of the potential costs they face — in legal fees and fines, wasted time and revenues and lost confidence and trust among customers and partners — should the unthinkable ever occur.
Taking such circumstances into consideration, and noting the painful ongoing lessons of PG&E's San Bruno disaster, the potential return on wisely, proactively investing in a solution like EMC's Captiva 6.5 is almost incalculable.