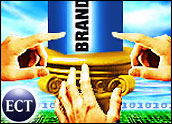 Trust, like love, can be a tricky emotion to evoke. Even tougher, it is all too easy to lose. In business, however, trust is essential if a company wants to retain customers, draw new clients and keep its hard-won reputation shining brightly.
In the e-business realm, unique challenges abound for firms that are trying to build a loyal customer following. Consumers may be wary of e-commerce in the face of identity theft, network security breaches, poor online customer service and the lingering shadow of failed dot-coms.
However, some companies have managed to beat the odds and become household names, with good repeat business and solid word-of-mouth among users. How did they succeed in winning customers' steady clicks?
Gotta Have Faith
The process of acquiring customer trust is a lengthy one, no matter how much some companies might wish it were otherwise. That is because trust cannot blossom simply as a result of an expensive marketing campaign or a spiffed-up image. Rather, it is all about repetition.
IDC analyst Jonathan Gaw told the E-Commerce Times that whether a company is a B2C online retailer, a B2B exchange or another type of e-business, the basics of garnering trust are the same.
"It's something you earn by building up over time," he said. "You earn it through multiple contacts with the consumer and multiple transactions. If they have a good experience every time, then trust will follow."
Top Dogs
Although being well known or long-lived on the Web does not automatically guarantee customer trust, those factors can help.
Gaw noted that when online retailing first evolved, a question existed as to whether it was more important to learn how to sell online or to develop a brand name customers could trust.
Although both steps have proven to be crucial, e-businesses that understood how to build brands turned out to be the winners. Gaw cited Amazon and eBay as kings of the customer trust realm, with many other bellwether e-tailers serving as somewhat minor deity in the e-tail pantheon.
In accordance with the repetition principle, Amazon and eBay have built their loyal followings not because of the products they sell, but because so many people have used them regularly without incident.
Also, when problems do occur, the companies are quick to respond. If there is difficulty on eBay with a seller or a whiff of potential fraud, site representatives face — and solve — the problem quickly. Similarly, Amazon has an intensely focused customer-service network that smoothes over any customer discontent.
And while any e-business that wants to succeed has made it a policy to respond to customer concerns, the speed with which both Amazon and eBay handle this task puts them on the top rungs of the customer trust ladder.
Staying Steady
Another important factor in being highly regarded by customers is reliability in terms of product offerings, customer service and especially site accessibility.
Performance indices, like those generated by Keynote Systems, have helped many sites discover where they rank in terms of e-commerce transactions. Keynotemeasures how sites perform in load balancing, capacity, speed and reliability, among other factors. Steady, rock-solid results can translate into loyalty because consumers know they can rely on a specific site to run quickly and predictably.
Amazon and eBay appear regularly on the list, but other companies like Eddie Bauer have gotten good ratings as well.
"Knowing how the end user is experiencing a site is a critical component to gaining customer trust," Keynote product manager Jeff Morgan told the E-Commerce Times.
He added that using such site measures can work well in combination with creation of customer loyalty initiatives. "People have done well with speed and reliability," he said. "Now we're moving into the next phase, and that is how to align those things with business goals like customer retention."
Up and Coming
Even if an e-business is not named Amazon or eBay, it is still possible to replicate some of those leaders' success. Gaw noted that by focusing on building brand online, many companies are boosting their profile. Also, brick-and-mortar companies that have worked to solidify their online components are seeing gains in customer loyalty.
"Target, Wal-Mart, Barnes and Noble, all are doing quite well," he said. "They're improving."
E-businesses that must compete in a crowded niche tend to be especially feverish about establishing their brand in an attempt to gain customer trust.
For example, Orbitz chief marketing officer Mike Sands told the E-Commerce Times that his company has made a huge investment in customer care resources, both in staffing and technology. Also, the site continually tries to refine its search results so that customers can have more results for their travel planning.
"Having more information ultimately generates more trust," Sands said, "because customers believe they're going to see more options on our site, and that gives them a sense that we're reliable and honest."
Proactive Response
Orbitz also practices proactive customer service, which Sands said helps. For example, if there is fog in Chicago and flights are delayed, Orbitz customer service will notify all of its Chicago travelers via cell phone and e-mail.
Perhaps above all, trusted sites do not rest on their reputations.
"We take site feedback and incorporate that into site changes," Sands said. "I don't pretend we have it right. It's a continual process, and we're always working on it."