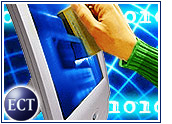 The e-commerce landscape may have changed dramatically in recentyears, but both pure-play e-tailers and multichannel retailers arestill focused on finding ways to convert more surfers to buyers, accordingto keynote addresses and interviews at the eTail2003 conference in Boston, where E-Commerce Times reporter Keith Regan is on the scene.
Still, although conversion rates are nothing new to e-commerce, the tacticsand techniques used to boost them clearly have changed. Whereas steepdiscounts and offers once were a primary means of convincing browsers to buy, the focus now is on using rapidly evolving personalization and analytics technology to increase conversion rates.
Gap.com chief technology officer Cornell Williams said the apparel retailer's conversion rate of between 2 and 4 percent, depending on the season, is good for the industry.
"But if I can get just that one last percent and get to 5 percent, I'mgoing to increase the profitability of my online channel dramatically,"he added.
Measuring Up
This theme is being echoed throughout the conference, with various conversion-boosting tactics taking center stage, from Web site performance and usability testing to better measurement of which search engines and portals deliver the best customers. In fact, the bulk of exhibitors at the conference are focused on Web analytics, multichannel marketing, keyword search and personalization tools.
"Customers are wanting to drill down a lot more and find out exactlywhat's happening on their Web site," John Klinke, product manager for Webperformance measurement firm Keynote Systems, told the E-Commerce Times."It's not enough to know how your home page is doing. You need to know whatthe buying process is like and how you measure up against the competition."
Bluefly.com CEO Ken Seif said his company found a Web performance slowdownon its site by accident. "It may not be where you're looking," Seif noted."Once we fixed the glitch, we saw conversion rates go up almostimmediately."
Weeding Out
"You need to figure out which customers are the ones you keep and whichones you want to basically shut the door and say 'no thanks' to," said DaveCarlson, CEO of Go Toast, which helps companies figure out how much to bid forpaid search listing placement. "Customer value management is really thetrend for the next two years."
In the same vein, eBags.com CEO John Nordmark said his company boosted conversionrates by reducing the number of people it attracted to its site. "Our rates have been going up steadily ever since we stopped trying to just boost the number of monthly visitors or page hits we received," he said.
CFOs A-OK
All this talk of customer conversion, however, does not negate profitability as the Holy Grail of e-commerce. That topic is still very much on the minds of chief financial officers.
"Customers are driving us to this [online] channel," Lands End' CFO Don Hughessaid. "It's already more profitable than our catalogs."
NHL Ice, the National Hockey League's online unit, is also profitable, according to CFO Kenneth Nova. "We are not a general interest site," he said, "but we have a core group of fans that doesn't hesitate to reach out to us and tell us how we're doing."
Brand This
Another recurring theme is the power of brand online. "The winners arealready clearly the brands," said Hughes. "That customer familiarity is where the customer gets his comfort level, where the trust comes from."
One frustration for CFOs is the difficulty of measuring customer satisfaction and determining whether or not their companies are achieving ROI from efforts to present a smoother online shopping and buying process.
"It's hard to put a number around customer satisfaction," saidChristine Aguilera, CFO of SkyMall, which has transitioned from being anairplane-only catalog to a multichannel retailer. "You have to look at thewhole picture and see how you're doing. The bottom line is always going totell you how well you're doing."