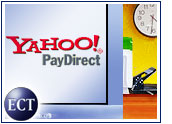 In a bid to break into the market for alternative online payments, in which several companies already have failed, Yahoo said it will launch an international version of its PayDirect service, using disposable ATM cards as the method of transferring payments.
Billed as a lower-cost alternative to money transfers, especially for international transactions, PayDirect International will allow payments to people who do not have accounts with PayDirect, as well as those who do not have Internet access or even bank accounts of their own.
Yahoo said the need for alternative payment methods is growing worldwide as the global population becomes more mobile. The company cited data suggesting that as much as US$200 billion annually is transferred between countries by individuals.
More Than Meets the Eye?
Although Yahoo's new service is targeted toward international users, company spokesperson Dickson Chu said the system "revolutionizes current Internet person-to-person payment methods." Chu added that the service is well suited for "foreign-born nationals living and working in the United States that need to send money home."
Transfers are paid in the form of a stored-value card that is sent to the recipient, who can use it to withdraw funds from some 800,000 ATMs worldwide bearing the Cirrus brand name. Senders of cash also can refill the card through the PayDirect Web site.
Cost of the service varies by destination and other factors, but Yahoo charges a base fee of $5.95 for all international transactions. As a deal sweetener, the company is giving away free international calling cards with all transfers.
Although the domestic version of PayDirect has been in existence for several years, it has existed almost exclusively in the shadow of eBay's PayPal service, by far the dominant online payment system.
Vacant Niche
Analysts said while it is unlikely that PayDirect could dislodge PayPal from the top spot, it does offer features that PayPal does not. For instance, to receive money from PayPal, a user must have an account with the company. Also, because PayPal's transactions are fully electronic, the user also must have a credit card or checking account to use the service.
"There's long been a sense there are better ways to attack the online payment world," Paul Ritter, program manager at the Yankee Group, told the E-Commerce Times.
While the new Yahoo option will not directly address one growing area in the online payment market — micropayments of a dollar or less for content, such as one-time downloads of music and premium news — it does address gaps in existing systems, such as PayPal. "There's probably no single solution to online payments," Ritter noted. "Even the credit card companies can't get their hands all the way around the market."
Indeed, despite the high-profile failures of several early Web-based payment systems, including Beenz and Flooz, a recent flurry of startups aimed at the same market seems to indicate a belief that there is a viable business market to be mined by the right solution. In the past 18 months, for instance, I4 Inc. and Peppercoin both have received venture funding to develop online payment alternatives.
Hot Wired
IDC analyst Aaron McPherson told the E-Commerce Times that he expected PayPal to pursue opportunities for foreign-currency exchange and money-wiring services more vigorously than it has so far. Instead, eBay, at least to date, has focused on refining its PayPal service as the preferred way to pay for auctions and fixed-price sales on its own platform.
"PayPal had the advantage of having name recognition and, more importantly, consumer trust," McPherson said. "Whether people feel the same way about Yahoo in terms of trusting them with large quanities of money is an open question."
The PayDirect program leverages several existing and new Yahoo partnerships, including deals with international bank HSBC; the MoneyGram program; shipping firm DHL, which will handle delivery of all ATM cards; and eFunds, which will manage and process card payments.