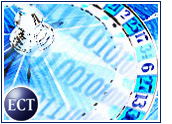 In part 1 of this article, "The High-Stakes World of Online Gambling," the E-Commerce Times looked at the state of the Internet betting industry and its remarkable popularity. David Carruthers, CEO of Internet gambling site BetonSports.com, told the E-Commerce Times that his site has seen meteoric growth in the last three to five years.
Carruthers also mentioned that U.S. legislators have made online gambling into a favorite target; however, despite legal hurdles, roughly half of the industry's revenues come from U.S. residents.
Even with the potential for anti-gambling laws on the horizon, the industry seems to be going full speed ahead. What does the future hold for this expanding empire?
Casino Planet
A December 2002 report by the U.S. General Accounting Office stated that future growth in the online gaming industry will occur mainly outside the United States. Although Americans now account for half of industry revenues, the GAO predicted that by 2006, U.S. residents will account for only one-fourth of what, by then, will be a US$14.5 billion market.
Because of its extraordinarily high Internet penetration rate, Japan may be the next gaming powerhouse. Already, the country is seeing remarkable expansion in its online gaming activity. The sports obsession of many Japanese citizens may be driving some of that growth, as sports gambling sites are extremely popular among the online gaming set.
Other Asian countries like China and Malaysia also are poised to be wooed by gambling sites. The GAO reports that in those countries, twice as many people have gambled online as have purchased a product online.
However, the United States should not be completely counted out as an expansion market. Although there is a perception among some industry watchers that betting sites are scams, new customers still are entering the fray every day.
As Avery Cardoza, publisher of gambling lifestyle magazine Avery Cardoza's Player, told the E-Commerce Times: "People love to gamble. Even if they think they're being cheated, they'll still gamble. It's not about winning, it's about playing."
You Want It, You Got It
No matter where in the world online gamblers are located, the industry is ready to serve them. With nearly 1,400 sites in existence, there is no lack of online gambling destinations. At this point, the industry is working toward providing more variety.
The old favorites — sports betting and casino games — still dominate the Web, but in the future, there will be more quirky opportunities that could draw new gamblers into the fold.
"The product base is broadening," Carruthers noted. "For some, there's a migration away from being American sport-based and more toward some of the softer or nuevo betting areas."
He noted that on his company's site, a bet about whether Ben Affleck and Jennifer Lopez will get married by the end of the year has attracted more than 3,000 people ready to lay down cash on the result. If the celebrity couple ties the knot, Carruthers will have to pay out more than $250,000. Other entertainment-themed bets are getting more popular as well, he said.
"You see people wanting to bet on the outcome of the Oscars, or who will win on Survivor," he noted. "Those kind of bets are done by people who might not normally come to a gambling site."
Gaming Junkies
With a rise in online gambling comes a greater danger of addiction, according to Nancy Petry, a professor of psychiatry at the University of Connecticut's Center for Gambling Research and Treatment.
In a recent study, Petry found that Internet gamblers were more likely to have a serious gambling problem than other gamblers. In her research, she warned that the Internet's explosive growth likely will lead to more online gambling opportunities.
When this happens, she posited, health and emotional difficulties that come with gambling disorders are likely to follow. Such problems include substance abuse, circulatory disease, depression and risky sexual behaviors. As the report stated, "The availability of Internet gambling may draw individuals who seek out isolated and anonymous contexts for their gambling behaviors."
Petry told the E-Commerce Times: "With Internet gambling, it's going to become a major problem to treat people. Already, only about 10 percent of those who have an addiction problem seek help. With Internet gamblers, it's likely the percentage will be even less."
Target Market
Despite potential addiction problems, online gambling also could present a significant opportunity for companies that are willing to target gamblers. In a recent report on the industry, Forrester analyst Chris Charron noted that 7 percent of online consumers already gamble on the Net.
"Marketers, start your engines!" he wrote. "These online risk takers are big fans of online shopping, being more likely to buy online than nongamblers are."
Charron told the E-Commerce Times that Web bettors are receptive to marketing, have money and are willing to spend it.
"I think that folks selling shopping services, travel, certain types of consumer electronics or fashion would be well served to look at where these people go and what they do online," he said.
Better with Marketing
In his report, Charron also noted that gamblers are more likely than other Internet users to click on ads, to be less annoyed by them and to be more likely to remember advertising messages. Also, they are more likely to sign up for e-mail marketing and to open e-mail promotions.
"Any company that wants sell products online," he said, "would be wise to keep this audience in mind."
In other words, despite the zeal of U.S. legislators to bring down online gambling, many people still are placing their bets on the industry's future. Right now, the odds favor the gambling world.