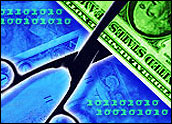 They seem ubiquitous wherever consumer electronics, hardware and software are sold: the offers for rebates plastered on packaging, store displays and even cash register receipts.
It seems like a great deal, this offer of money back, especially when all the consumer has to do is send in a receipt and UPC code. However, some technology buyers have found that sometimes it really is too good to be true.
A rebate's fine print may demand serial numbers, proofs of purchase and other detailed information, making the collection process more time-consuming than a customer might have thought. Worse, sometimes a company will take weeks or months to issue a check, or may simply declare that paperwork provided by a buyer is insufficient proof.
So, why do companies offer rebates rather than simply lowering product prices? Because when they work, everybody wins.
Reason for Rebates
Especially in this economic malaise, it may seem as if flat-out lowering prices would make more sense than forcing consumers to endure a complex rebate process. Yet this strategy is actually less effective, because many buyers of hardware and software perceive an item's price as lower when a rebate is offered, even if they do not bother claiming the cash back.
Rebates also allow a company to advertise a lower price and put the words "after rebate" into as small a font as they dare. This tactic is not really an underhanded way for manufacturers to fool consumers, but rather a method for keeping list prices steady, according to Aberdeen Group analyst Peter Kastner.
"It's exactly what domestic car dealers do," Kastner told the E-Commerce Times. "They keep the sticker price the same but experiment with the discount. With IT rebates, the same principle applies. It allows for a stable list price."
Also, because the retailer and the supplier receive the purchase price up-front, their accounting departments are happy because of the benefit to cash flow.
Marketing Voodoo
Rebates that equal the price of what is being sold, essentially making the product free, are also increasingly common in the retail world. Although consumers may view such deals with suspicion, the company that is "giving away" merchandise usually has honest motives.
Zeus Kerravala, vice president at the Yankee Group, told the E-Commerce Times that such a move is not the result of poor strategy on the part of the company offering the rebate, but is more likely a way for the company to endear itself to consumers.
"For companies that haven't been in a particular market, the rebate that essentially refunds the customer's money is a great way to get people to pay attention to them," he said. "This is especially true in consumer electronics, where brand name does matter. It's a good way to get customers to take a chance on a new brand."
Sometimes the tactic is not looked upon favorably, however. Jim Hsia, vice president of marketing at Asante Technologies, told the E-Commerce Times that he dislikes the trend.
"Because of the percentage of people who don't send in for rebates, it seems inherently distasteful," he said. "It's like saying, 'I'll steal your money, but if you catch me, I'll give you your money back.' That's not a way to do business."
Betting on the Lazy
Indeed, the most important reason why manufacturers like rebates is simple: Many people never attempt to collect what they are owed.
Kastner estimated that 40 percent of consumers do not follow through on rebate offers. When IT rebates are separated from the pack, the proportion of unclaimed checks can be even more startling.
Hsia said the typical redemption rate for his company's products hovers between 2 and 15 percent.
He noted that despite this seeming consumer apathy, the ratio of redemptions does seem to be increasing. "I think consumers are starting to be more aware of the benefits of rebates," he said, "especially because stores are trying to do point-of-sale coupon printing. When they do that, there's a much higher rate of redemption."
Despite retailers' efforts, however, there is no question that manufacturers are reaping the benefits of consumer malaise.
"People are inherently lazy," Kerravala said. "I think when money's tight, like it is now, you might be more apt to send in for a rebate. But even then, with some rebates at (US)$5, laziness still wins out. It's like why people don't use coupons at the grocery store. I've seen people save 20 percent on their grocery bills using them, yet most people still skip coupons. Why? Lazy."
Fine Print Reading
Even motivated buyers may find that following the instructions for garnering a rebate check are akin to filling out a small business IRS form.
"You have to do precisely what you're requested to do," Kastner said. "If they want the original, send in the original. If you do the wrong thing, they'll throw your request away."
He estimated that 20 percent of all consumer rebate submissions contain a problem, ranging from incorrect paperwork to missing UPC codes. When a manufacturer demands more than a receipt and UPC code, the rate is even worse.
As Karravala said, "When you're asking for something beyond the standards, that confuses customers a lot — especially if you're dealing with serial numbers."
Many rebates also go unclaimed because they need to be postmarked within 30 days and, as Kastner noted, "On day 32, you notice the rebate form in a corner and suddenly think, 'Oh yeah, I forgot about that.'"
In the end, rebates can be a direct route to phenomenal savings for conscientious consumers, and companies stand to profit financially from the strategy. Moreover, regardless of whether or not a rebate is redeemed, consumers are likely to feel that they got a good deal at the cash register. They probably did — so long as they read the fine print.