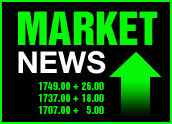 Investors continued to be bullish on technology stocks Monday, driving the Nasdaq above the 1,900 level for the first time in two months and helping to lift stocks higher across the board.
Stocks rose despite another surge in oil prices, which was brought on this time by fears that Hurricane Ivan will significantly disrupt oil production in the Gulf of Mexico. Crude futures tacked on more than a dollar in New York trading, closing at $43.87 a barrel.
Market Numbers
Some investors may have stayed to the sidelines, meanwhile, as a wide array of data — retail sales, consumer prices, industrial production and consumer sentiment — due to be released over the course of the week could help answer questions about the direction of the U.S. economy.
The Dow finished narrowly higher, up 1.69 points to 10,314.76. The Nasdaq was the day's biggest winner, adding 16.07 points to close at 1,910.38. The S&P 500 was up just under 2 points to 1,125.82.
Leading the charge for tech stocks was Lucent Technologies, which gained more than 4 percent after an analyst firm raised its outlook for the hardware maker, and Hewlett-Packard, which announced it had won a $290 million contract to provide computing infrastructure to the Defense Logistics Agency. HP shares were up more than a full percentage point.
Airlines and Movie Studios
Stocks managed to overcome a host of concerns, including shock waves reverberating from the weekend bankruptcy filing by U.S. Airways.
The filing marked the second time in two years the airline has sought bankruptcy protection and has some analysts raising warning flags about the airline industry's long-term health, especially if fuel costs remain high. U.S. Airways appears poised to default on a $1 billion loan guarantee put up by the U.S. government.
Providing a counter balance was investor enthusiasm in the entertainment industry, where Sony and several partners, including Comcast, announced they had reached an agreement to buy movie maker Metro-Goldwyn-Mayer in a deal worth almost $5 billion. Sony outbid Time Warner for the right to take over the legendary Hollywood studio.