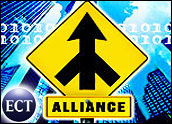 Hewlett-Packard and Microsoft will combine marketing and training efforts in hopes of expanding their share of the US$1.8 billion-a-year market for network-attached storage (NAS).
Although specific financial terms of the partnership were not disclosed, both companies said they have pledged "significant investment" in marketing efforts and training of sales staff.
The two tech giants said they will promote their new alliance to thousands of potential customers via a 10-city road show that will start in March and will include such key technology centers as San Francisco, Los Angeles, Boston and Toronto.
Eyes on Prize
According to research firm Gartner Dataquest, the market for network-attached storage — storage solutions connected directly to enterprise networks — is set to grow from $1.8 billion to $4.3 billion within three years. The space is currently dominated by EMC, which has partnered with Cisco and controls about 31 percent of the market, and Network Appliance, which controls 38 percent of the market.
The HP-Microsoft incursion may seem to have come at a bad time for the NAS marketplace, as sales dropped during most of 2002. But IDC vice president of storage research John McArthur told the E-Commerce Times there is little doubt that customers will continue to demand networked storage options.
"There is healthy if not vigorous competition in the space already," McArthur said. In fact, he noted, Network Appliance won the top spot from EMC in recent quarters. In addition, HP is already one of EMC's major competitors in the storage area network (SAN) market, so the networked-storage arena is not entirely new ground for the company.
Consolidate and Conquer
Palo Alto, California-based HP and Redmond, Washington-based Microsoft said their partnership will focus on deploying HP StorageWorks servers driven by Windows software. The two companies will target enterprises that are considering consolidating their older server setups, which often occupy huge volumes of shelf space. Instead, these enterprises are favoring use of fewer — and newer — servers in a bid to save money over the long term.
HP spokesperson Don Gentile told the E-Commerce Times that both companies believe it is logical for companies running Windows to integrate network-attached storage running the same software.
"The single-vendor approach makes sense for many customers, since they have one point of accountability for service and support," Gentile said.Having a single platform that extends to storage also "enables [companies] to take advantage of existing tools and skill sets" among IT employees, he added.
Old Friends
Since the HP-Compaq merger was completed in May 2002, HP and Microsoft have become close allies. Last fall, HP pledged to contribute half of a $50 million investment to foster awareness of the potential of Web services, especially Microsoft's .NET initiative.
The two companies also have focused on NAS in the past. In July 2000, HP became the first vendor authorized to deliver Windows-driven NAS solutions.
But even though it has forged a tighter bond with Microsoft, HP announced at an Amsterdam, Netherlands, trade show that it recorded $2 billion worth of revenue in 2002 from the sale of open source Linux-based systems. HP chairman Carly Fiorina claimed at the show that this figure makes HP the undisputed market leader in Linux sales.