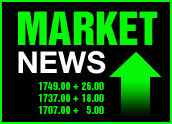 Data showing that inflation appears to be in check, at least at the wholesale level, helped lift Wall Street to a winning close of a holiday-shortened week.
The Producer Price Index fell one-tenth of a percent during August as falling food prices offset higher oil costs, the latest evidence that inflation is not a major concern.
That should allow the Federal Reserve to stick to its slow-and-steady approach to raising interest rates.
The markets liked the news, with all major stock averages moving higher.
The Dow gained 23.97 to close at 10,313.07, while the Nasdaq gained 24.66, more than 1.3 percent, to finish the week at 1,894.31. The S&P 500 tacked on 5.54 points to finish at 1,123.92.
Hurricane Ivan Upsets Oil
The prospect of powerful Hurricane Ivan battering the important oil-pumping areas of the Gulf of Mexico sent crude prices higher again for a short time Friday.
Later, forecasts that showed that Ivan would likely miss the bulk of the oil-producing areas in the western part of the gulf helped prices fall late in the day.
Oil rose sharply in early trading, breaking the $45 per barrel level before falling well back to close below $43.
Cumulative Impact on Florida, Elsewhere
Still, Ivan is being closely watched in part because of the potential cumulative impact of three major hurricanes striking Florida within a month.
Ivan had already ravaged the island nation of Grenada and was expected to strike Jamaica and parts of Cuba before it threatened the U.S. mainland.
On Friday, officials in Florida said the state's citrus crops had sustained an estimated $500 million worth of damage from hurricanes Charley and Frances, likely leading to higher consumer prices down the road.