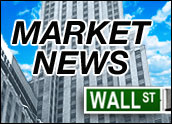 Google's debut brought to mind the late 1990s for many investors, with the dot-com stock rising nearly 20 percent in the first few minutes of trading.
But the rest of the market didn't share in the nostalgia, with all major averages losing ground.
Shares of Google went live about two hours into the session at $85 and were soon trading above the $100 level.
They closed at 100.95, up 19 percent on the day. Analysts were crediting Google with pricing the stock lower upon the offering to help assure a move to the upside once trading began.
Excitement over Google didn't carry over to other Web-related stocks. Yahoo, Amazon and eBay all traded lower on the session.
Overall, the markets were down moderately, with the Dow losing 42 points, but managing to stay above the 10,000 level at 10,040.
The Nasdaq slipped 11.48 points to 1,819.89 and the S&P 500 shed 3.94 points to 1,091.23.
Meanwhile, crude oil prices threatened to bump off Google as the biggest news impacting trading on Wall Street as prices again set records, surging higher and threatening to close in on the $50 per barrel level.
Crude futures traded as high as $48.80 in New York, and were up 3 percent on the day.
Elsewhere in the tech sector, Nortel Networks announced it would cut 3,500 jobs, or about 10 percent of its worldwide workforce, and had fired several key financial managers as it tries finally to put an accounting scandal in the past.
Shares of Nortel rose on the news, gaining about 8 percent.
Amazon, meanwhile, slumped despite announcing a deal to buy Joyo.com, the leading Web seller of music, movies and books in China in a deal worth about $75 million.