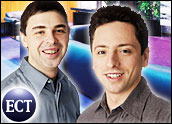 Google significantly cut the size of its upcoming initial public offering, lowering the price range it expects shares to sell for and cutting the number of shares in play, dropping the total maximum value of the year's biggest IPO from more than US$3 billion to $1.9 billion.
Google dropped the price range to between $85 and $95 each per share, well below the previous range of $108 to $135. That and the fact that some insider shareholders will hold onto stock they had intended to sell — cutting the amount of shares available to 19.6 million — reduced the total value of the offering by as much as 40 percent.
The new pricing would value Google at up to $25.8 billion, a reduction of $10 billion, and puts its valuation closer to what many analysts say makes sense according to its revenue and profit trajectory.
Regulators at the SEC
The changes, which Google announced directly in a posting on its IPO-related Web site, came after regulators at the Securities and Exchange Commission (SEC) let a Tuesday deadline pass without declaring Google's offering effective, as the company requested.
The SEC did not comment on why it did not act, but analysts said it might indicate some lingering issues at the agency with some aspects of the offering, which has been marked by several twists and turns, from Google's admission that it sold unregistered shares to insiders and an 11th-hour interview in Playboy magazine that could have been considered a violation of the mandated "quiet period" leading up to an IPO.
Google said it has since submitted another request to have the offering declared effective at the close of the stock market on Wednesday. If the SEC agrees, shares could start trading as soon as Thursday.
Losing Luster
Some analysts were blaming Google's choice of a Dutch auction to price its IPO shares for the holdup. Although they are not uncommon, Dutch auctions do result in more uncertainty than traditional IPOs, which are priced by underwriters on the basis of demand they receive from large institutional investors who agree to buy shares.
Google went the auction route to encourage smaller investors to take part, but is running up against several mitigating factors, said IPO analyst Tom Taulli of CurrentOfferings.com.
"When they first announced their offering, the markets were up, particularly tech and Internet stocks," Taulli told the E-Commerce Times. "The question was who could ride Google's coattails. Now, the question might be whether there are any coattails to ride."
In fact, in the shadow of Google's downsizing and delays, Web analytics firm WebSideStory trimmed its own share price range to between $8 and $9 per share from $10 to $12. That company has been waiting far longer than Google to go public. It first filed for an IPO back in 2000.
Taulli noted that other companies have postponed or slowed their own offerings as a result of the battering the stock markets have taken over the past few weeks and because late August is traditionally not a banner time for IPO debuts.
Google's announcement was also a black cloud over the Internet sector as a whole, with Amazon, eBay and Yahoo shares all falling in morning trading Wednesday.
Melting in the Spotlight
Mark Bettencourt, a partner with the law firm of Testa, Hurwitz & Thibeault, said delays and changes in pricing are common in the IPO process and that the "marketing climate" has amplified nearly everything Google-related.
"Particularly in an average or soft IPO climate, and I think it's fair to say 2004 has been fairly soft, it's not unusual for a new issue to need an extra day or two," Bettencourt told the E-Commerce Times. That often occurs when underwriters in traditional IPOs need an extra day or two to fill out the bookings for an IPO.
"The national spotlight is not shone on every IPO; it actually shines on very few," he added.
Bettencourt said the SEC delay in declaring the registration statement effective on Tuesday is "not necessarily a red flag," but probably indicates the SEC wants time to ensure that the publicity surrounding Google doesn't result in a changed climate for the IPO. "A one-day delay in and of itself is certainly not a death knell," he said.