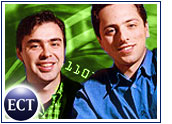 As Google lurched into its new life as a public company, debuting Thursday as the newest member of the Nasdaq, the impact of the search engine's still-blockbuster IPO on the tech industry as a whole was already being debated.
Before the offering was completed, there were some signs that the way Google's IPO limped across the finish line, pricing at low end of its lowered range, may have diluted interest in other tech offerings. Google's offering raised around $1.7 billion for the company, far less than originally estimates.
Google shares began trading about two hours into the session Thursday, trading around $100, well above the $85 debut price.
Before the debut, however, Linux software maker Lindows delayed its own offering, citing market conditions. And Web analytics firm WebSideStory cut the price of its IPO. Earlier in the week, Mtone Wireless withdrew its proposed stock sale.
All told, it was a far cry from some projections that Google could represent the start of a second wave of Internet companies going public and might show that investors are still not over their tech-stock weariness.
"In the end, the reality is that Google might be the best of its breed and even a profit and growth machine, but the valuations still make investors nervous," said Tom Taulli, IPO analyst for CurrentOfferings.com. "Also, where else do you invest? It's not like there are a half-dozen other Googles out there."
Wait and See
What impact will Google have on the tech sector? A lot will depend on how well it performs as a public company under the glare of a white hot spotlight.
Enderle Group analyst Rob Enderle said the performance of Google and its stock could determine whether there's a positive or negative spillover effect for the company's Silicon Valley neighbors and the rest of its tech brethren.
"If it drops like a rock it could do a lot of damage. If it holds or goes up it could drive investment into the Valley," Enderle told the E-Commerce Times.
Indeed, optimists have long viewed the Google IPO as another important building block in the reconstruction of the tech economy. The $1.7 billion flooding into the Valley will have a ripple effect, they argue, as Google puts the money to work, either through internal expansion or acquisition.
Perfect Storm of Competition
Others see a perfect storm of competition forming, with Google and Yahoo about to be joined by Microsoft in the race for search supremacy. That competition could result in technological advances that might have taken much longer in a different environment.
"Google raised the bar for the technology in the space and now everyone else is going to try to jump over it," Forrester Research analyst Charlene Li told the E-Commerce Times. "The gains that will be made in search, the way it changes things in the next several years, will be similar to how the Internet changed five years ago."
Carl Howe, a former Forrester analyst who is now a partner with Blackfriars Communications, said Google has gained a massive advantage by becoming synonymous with search.
"The reality is that this is a marketing and media war — and Google, not Microsoft, is setting the high-tech marketing standard," Howe said in a recent report. "Does anyone not use Google today? Google may actually be better business people than they give them credit for — simply because they've figured out how to use marketing as a weapon when none of their competitors have."
Creative Destruction Revisited
Enderle said the impending fierce competition among the search heavyweights, as well as contributions from startups, could result in accelerated development of technology and tools that will make a difference in the business world.
"Finding things has become a problem for every industry and virtually ever person in it. A strong search technology has a huge potential impact on global productivity," he added. "We may actually see the first thing approaching a real artificial intelligence in search because of the money focused on the related problems and the tremendous need for search to be adoptive and intelligent."
Still, for all the hopes that Google has riding on its shoulders, it's not hard to find reasons for concern.
Ironically, the most often used comparison for Google is what troubles Enderle. Like Netscape at the dawn of the Internet era, Google is a dominant market leader that has fired up the public imagination about the potential for technology and the tech economy. Google believers are certainly hoping for a different ending to its story.